By Tim Slater
3 years ago

So, we're into our last week here (of a month) and I had intended to write about how I felt this experience has changed me, but to be honest I'm not sure that will hit me until I'm back in London this time next week. So instead I'm going to write about some of the realities, good and bad, of spending a month on Curieuse for those considering it.
Let's get one thing out of the way, this place is tough and can be very physically demanding. When you are trekking around the island to get to the turtle survey beaches, carrying some of the bits of shark kit or scrabbling up steep slopes in the jungle for the coco de mer survey, the phrase you will hear pretty much every day is 'I don't think I've ever sweated so much in my life'! There's no getting around it, whilst you might acclimatize to the general humidity (takes about a week, come a few days early if you can), doing strenuous activities in the heat does take it out of you. To give you an idea, we generally take about 3 litres of water each when out for a morning's surveying, this is March though which apparently is as hot as it gets.
You also probably have concerns about the camp conditions, but to be honest it's not that bad and you will soon get used to it. Everything you've read is true: no flushing toilets, cold showers every other day and the bunk house is probably as far from luxury as you can get. But unless you are really precious about home comforts, you will cope I assure you. Maybe we've been lucky but the food this month has generally been pretty good, but you only get meat twice a week so is worth checking some vegetarian recipe ideas before you come. As un-luxurious as the camp is, you only need to look at the location and it is so worth it, you will be sleeping about 3 meters from the Indian Ocean with the sound of the waves lulling you to sleep. The story of a massive crab trying to climb through my mosquito net at 4am is one for another time.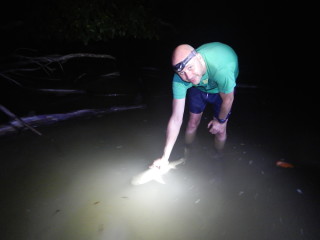 Talking of mosquitoes, you will get bitten. A lot. It will bother you for the 1st week, but by the end you just won't care anymore. Bring a mozzie net (box type is best for the bunks), the strongest repellant you can but it is simply a fact of life here. The main time you notice it though is when you are away on the weekends and you look like a leper in comparison to the other tourists beautiful, pristine legs.
Still reading??? Good, now let me share some of the highlights of the magic moments that make is so worth it.
Hatchlings – Finding a baby turtle whose brothers (or sisters, we don't know at this stage) have left him behind and watching him crawling down to the sea to begin his life, just magical.
The Giant Tortoises – It's surreal when you're having dinner and Obama (who occasionally comes to see us in camp) strolls past. The first time you get to the Rangers Station you may not be able to contain yourself, they are everywhere and most do love a good neck scratch. I also love how they sleep but you'll have to see that for yourself.
Sharks – I don't know why but I love how the lemon sharks we catch enter a catatonic state (technical jargon = 'tonic immobility') when they are turned onto their back. They go from being so angry that they've been caught to so chilled – It's just funny!
Swims – You live on a beach, so once your work is done, a dip at the end of the day is magical, especially when the other tourists have to leave at 5pm. The water is unbelievably clear and so warm, very special.
Snorkeling – You will probably get one trip a week and not to be missed, we got to swim with a Hawksbill turtle and everything.
Dexter – In fact, just cruising around on the boat is pretty cool.
Weekends – You get to be a tourist! I won't lie, coming back to camp after the first weekend is a little depressing after such luxuries as shops and privacy. But the weekends are a lot of fun -searching out remote beaches around La Digue on a hire bike is one of my highlights.
The Seychelles – You are in the Seychelles!! It's an awesome place, the locals are very friendly and it's so beautiful you may actually get a bit numb to it.
So there you have it. Yes it's tough… very, at times, it's basic and very different from home, but that's kind the point isn't it?