Luang Prabang- An Unforgettable Odyssey
By By Volunteer Pankaj Prashant
3 years ago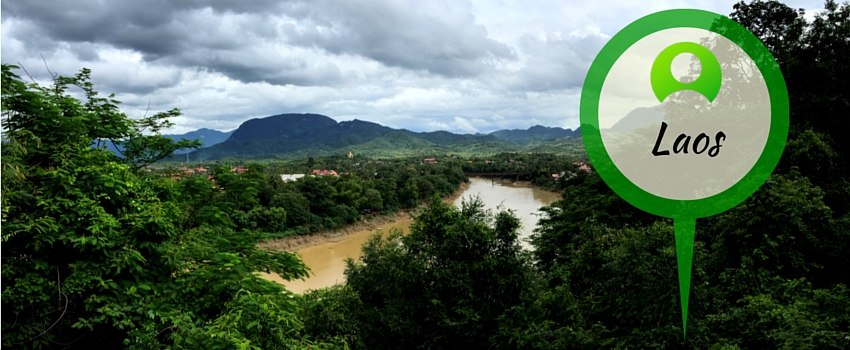 As soon as I disembarked at the Luang Prabang airport, I could sense a strange connection with the place. Something like a déjà vu, even though this was my first visit to Laos. There is a definite charm to this place that you become a part of even before you start exploring this amazingly serene place. Now the obvious question was why on earth did I come to a place called Laos, which many of you may not have even heard of? Being wanderlust I keep exploring new places and locations every few months. I was also highly inspired by one of my recent journey to India wherein I explored various social entrepreneurial works being carried out at the remotest locations of India. It was a definite eye opener for me seeing totally altruistic people creating immense value at the grassroots level thereby making a real positive difference to the society. Moved by the whole experience, I was in a quest to find a project /experience that may cater to my travel and small volunteer requirement. So I literally googled those two words and the first hit was GVI.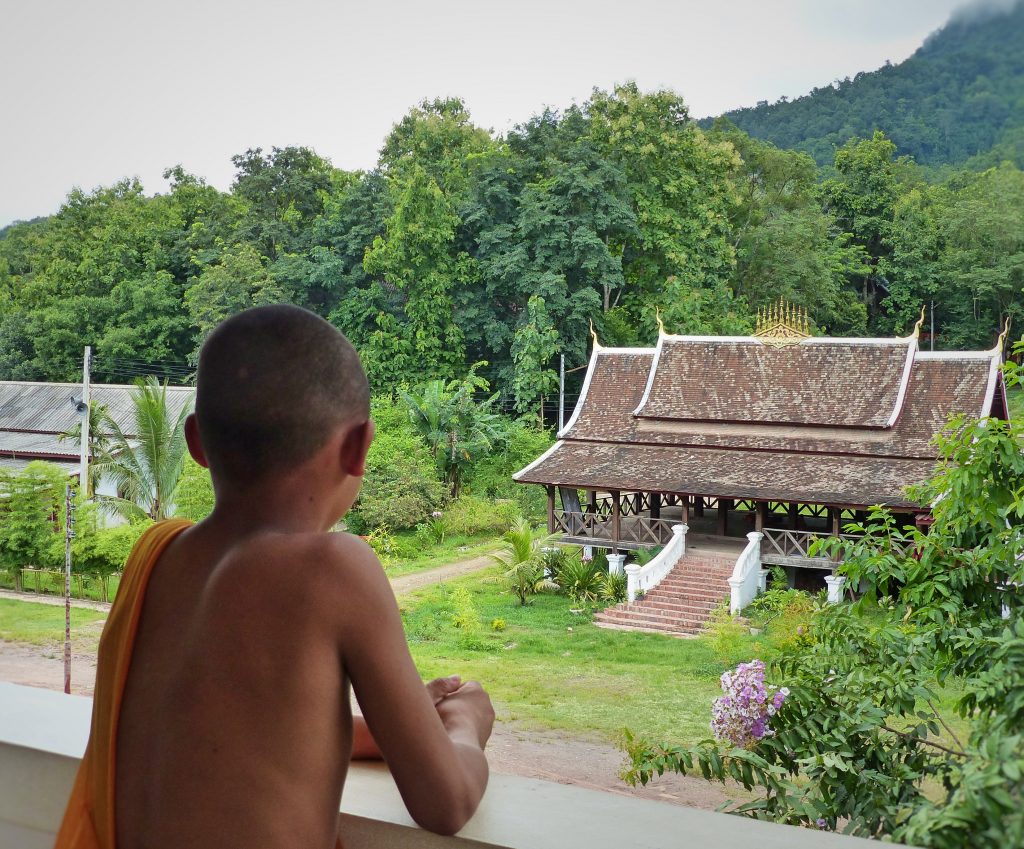 Just a little bit of background about GVI, so GVI or Global Vision International is an organization based out of South Africa that offers highly flexible overseas volunteering opportunities and projects all over the world. The projects may include teaching opportunities, wildlife protection and many other similar sustainable development works around the world. This is just a glimpse of what this great organization is all about, and you may get much more information by exploring their webpage.
Among the various lucrative volunteering opportunities to choose from, the one that resonated very well with me was teaching English to the young Novice Monks in Laos. The idea of teaching and visiting a lesser-known country in Asia was too appealing for me to let go and thus I signed up for the opportunity at the earliest. I need to tell you that the on boarding process for the same was highly efficient. The GVI staff ensured that all my queries were answered to extreme satisfaction and the process was easy and lucid.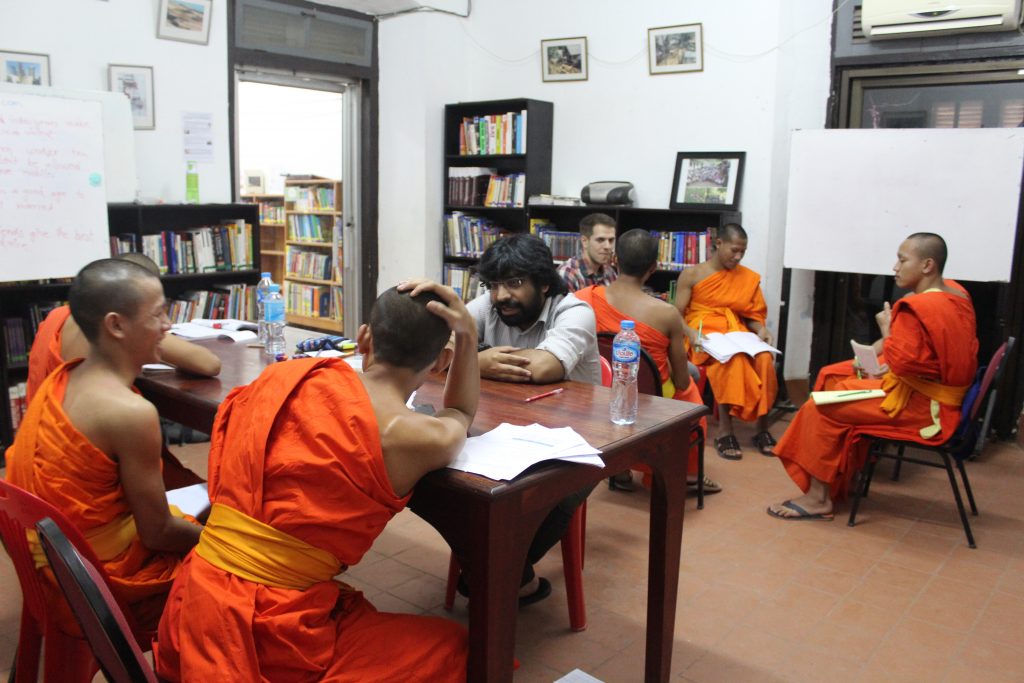 I knew I was going to "teach", an absolutely alien thing for me and so I wasn't very sure how the whole process might work. All the uncertainty and teaching related jitters were rested as soon as I got in touch with the wonderful GVI staff members at Laos. I'd no idea there were so many amazing surprises awaiting me at this magical place. I cannot help but mention the names of the legend GVI staff members at Laos. I was totally fortunate to meet Luke, a young and inspirational person from England who apparently became my teaching partner. I'll just let you in on a small secret, if you want to have really awesome and relaxed classes, request Luke to be your teaching partner, the man is a pure legend. Also, I was very much inspired by the passion of Sue who is responsible for education and class planning related stuff. Then I was mesmerized by the enthusiasm and energy of Leyla and Vale who are Program Manager and Program Local Liaison respectively for the Laos project. George who teaches in a nearby village is a real hero and a young role model for me. Last but not the least I met Tara and Touk who are absolutely sensational. All of them are true inspirational figures looking after and providing quality education to nearly 1,000 young students, Novices and Monks.
After some formal training over my first weekend at the GVI hub, I entered my first class and taught English to primary school kids. You know there are times in life when you truly feel that you've accomplished something awesome, I'd that amazingly satisfying feeling after my first class. Soon the teaching flow began and I was teaching one class after another with increasing confidence. It is a real honor and privilege to teach young Novices and Monks who have sacrificed all materialistic possessions to lead a highly simple and pure life. There was definite synergy with me teaching the Novices English and they teaching me a lot about the Buddhist culture and their way of life. Laos may be considered to be economically developing country but I can assure you that it is definitely leading the charts for the general happiness and humbleness level.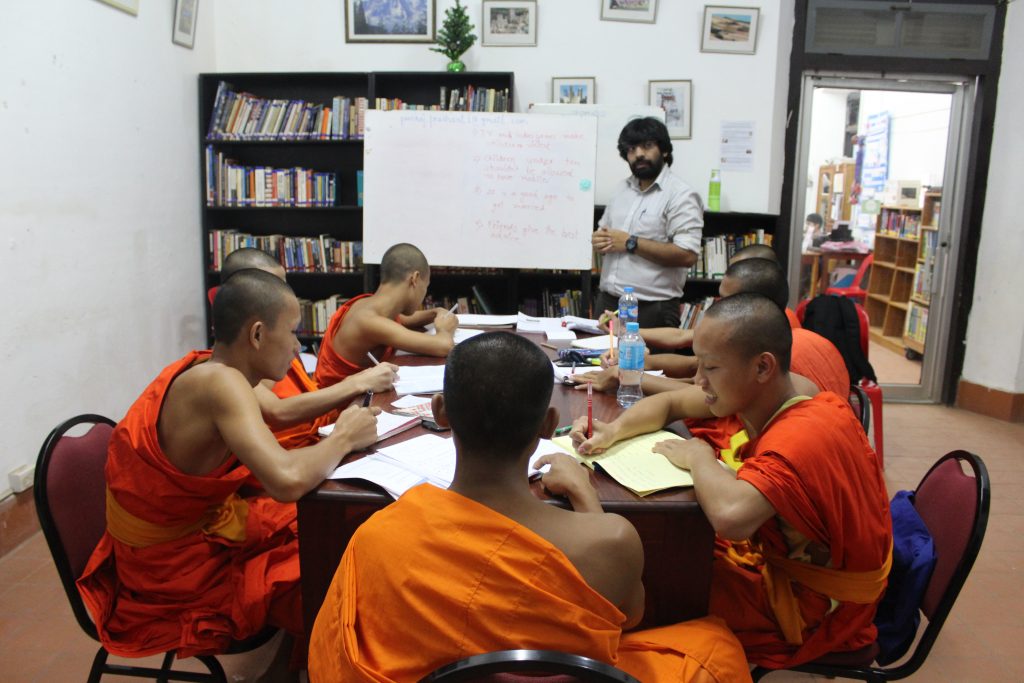 Oh, did I forget to mention about my awesome fellow volunteers. When people come together with a common goal or vision, the thought process and general energy level for the common good transcends nationality. During my time at Luang Prabang, we literally had people from all age groups and from all corners of the world. The bond that I developed with each and every one of them during my short stay at Laos will stay with me for a lifetime. The weekend trip that we planned to the rice farms, the movie night sessions, the temple chanting sessions, the early morning Alms Giving, the frequent trips to night market and many more such memories will stay with me forever.
It was in no time that the 2 weeks of volunteering that I signed up for was over. The goodbyes were difficult, as you'd never want to leave the place, the students, the fellow volunteers and the amazing staff. I watched out of the airplane window and reflected back on all the memories and bid adieu to this magical place for one last time. The thought finally started sinking in that I was leaving the place. The country director of GVI, Molly, had very beautifully said this to me in a passing conversation "there is a definite charm to this place, you can never totally leave Luang Prabang, it just keeps pulling you back". With this thought Luang Prabang faded between the clouds but the memories of this extraordinarily beautiful place had been deeply entrenched in my memory once and for all.
By Volunteer Pankaj Prashant