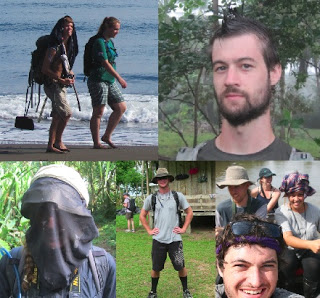 At the end of last week we had to say a sad farewell to our merry bunch of five weekers, however this week we had the pleasure of greeting a new bunch of volunteers on to base to fill their shoes! There were some very big (and very fashionable) shoes to fill but everyone seems to be settling in to life here in the jungle/beach paradise that is Jalova.
Speaking of shoes… with new people arriving on base seeing the place and its inhabitants with a fresh pair of eyes, it made me wonder just what they might be thinking when they encountered their first Jalovian…
We are a very fashionable bunch, it has to be said! We regularly rock the "socks and crocs" or, the slightly cooler but more tricky to pull off "socks and thongs (flip-flops)" look. Gum boots (wellie/rubber boots) are making a real statement this season. Worn with knee-high socks and shorts or with tucked in trousers, this look is going to be dominating the trails here in Tortuguero. Another hot look that is really easy to achieve here in the rainforest is the "Dirty Shirt". All that's needed to get this look is a few BAS (Biological Assessment Survey) outings followed by a Nest Excavation without washing your shirt. This look can easily be applied to trousers with the effect being accentuated if your trousers are originally pale in colour. This is particularly favoured by the Italian on base who also shows us how to perfect the one buttoned shirt/half zipped hoodie look that not everyone can get away with.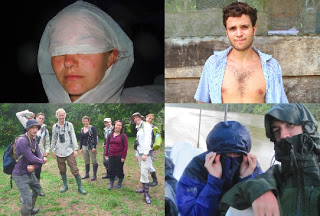 Jungle hair styles are BIG! The bigger the better! Humidity, salt water, biodegradable shampoo and sweat are all that's needed to perfect the "Big Hair" statement. The most popular and practical hair accessories tend to be the "Head torch Headband" or the "Mosquito Net Veil". A special hairy mention goes out to the men of Jalova who are attempting to grow moustaches for MOvember. There are some brave facial hair endeavours going on here at the moment including one impressive handlebar, a couple of convincing "fairly hairy lips" and a handful of "fake it until you make it barely there" fluffy lips that might one day be called moustaches.
In addition to looking good we also smell great! This seasons must have scent is DEET, unless of course you're a jaguar and in which case it's Calvin Klein Obsession…
-Helen, intern
Subscribe to our Blog
GVI on Instagram
Sorry:

- Instagram feed not found.
GVI on Facebook