It began like any other day…
By Chris Rissoli
10 months ago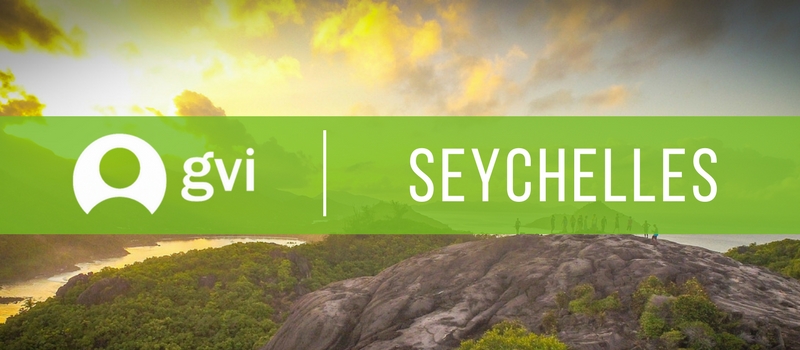 My first day on Curieuse began like any other waking up dragging myself from my bed only to realise today was the day, today I would finally reach my destination after what seemed like an age of travelling. Making my way down to the meeting point with what seemed like a bag heavier than a small car I finally met my new comrades and a welcome party of GVI staff this is when the adventure really began. The bus journey was what you might expect, many introductions and snippets of people's lives and histories, but all this was over shadowed by the spectacular beauty of the mountain ranges and blossoming life that was before laid us.
We reached the port and disembarked all ready for the trials ahead as we waited to board a ferry that would take us from the mainland to Praslin. The ferry trip ahead would be an interesting one. Half way through the ferry ride I felt quite seasick, which lead to me praying I wouldn't be sick, making a fool of myself on the first day but in the end prayer only goes so far… On reaching Praslin I quickly pulled myself together and preceded hoping things would go more smoothly from now on.
On arriving in Praslin you are immediately aware of the difference in atmosphere it felt more chilled no one was in a rush which contrasted the hustle and bustle of Victoria on the mainland. The journey from the port of Praslin and the pickup point seemed over in matter of minutes. Once we arrived at the pickup point we were greeted by Alan the base manager who gave us a brief introduction to the island and its history. The next member of staff we were introduced to was Dexter the trusty boat who over the coming weeks I would get to know well with snorkelling trips and shopping runs.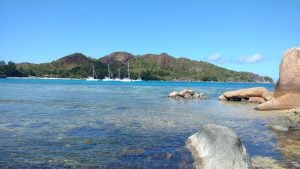 The trip from Praslin to Curieuse was quick and exiting speeding along on Dexter at a brisk pace. Arriving on Curieuse for the first time is something I will never forget it really is what you think off when you think of a remote island with white sandy beaches and palm trees with hills of green trees and exposed rock. Disembarking the boat you are first greeted by the staff house an old wooden structure set no more than twenty meters from the beach. Beside the staff house is a path that leads into the main complex of old granite buildings and wooden structures, this was my new home for the next 8 weeks. The base itself is relatively large with two dorms currently in use and a third undergoing construction and a large kit storage building and science room. Directly in the middle of the camp is the kitchen and bommie, this is where we would cook and eat and the centre of many social activities.
After inspecting the camp and placing my belongings in the dorm I can hear people laughing and talking wondering what this was I walked over and there in the base is a tortoise the size of a small table, Obama as he is known is a resident of the island and often makes his way down to camp to get some attention and food. This surprise really sums up my time on Curieuse, every time you think you know the island and how things work some unsuspected often weird and quite wonderful happens that reminds you you're just a visitor here and know very little. And I think that's part of the fun of it, the unknown!
GVI on Instagram
Sorry:

- Instagram feed not found.