By Michelle Kim
2 years ago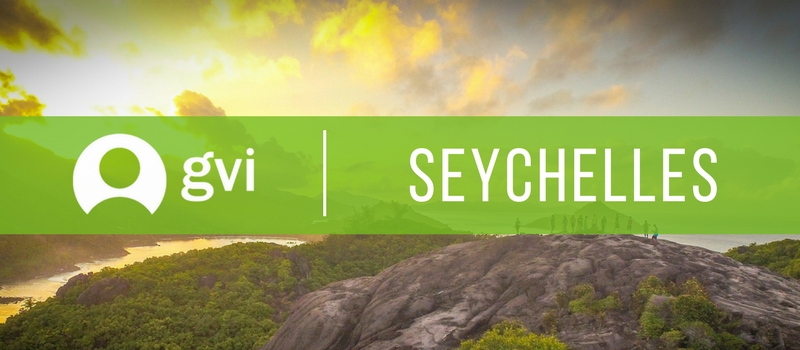 The GVI Curieuse base in the Seychelles is a curious magical microcosm. In there, you will meet precocious teenagers wise beyond their years, young adults with passion for science and environmental protection, professionals taking time out of their hectic schedules to take small part in global conservation efforts, and interesting individuals from all walks of life, along with four very hard-working staff members Alan, Pete, Amy, and Clare. Plus, new volunteers often get greeted by two resident tortoises Obama, the diva, and McGregor, the chill, upon arrival unless Obama is too busy basking in adoration from many tourists visiting Curieuse.
There are multiple conservation projects running simultaneously on the base all year around, turtle and lemon shark surveys being two main focuses. Other projects include beach profiling, baby tortoise growth tracking, Coco de Mer* survey, renovation of former leper colony buildings for future use, invasive species removal, and base camp maintenance. About twice a week, volunteers get a chance to snorkel in emerald green water of the Indian Ocean in varying spots where turtles and sharks are regularly spotted in addition to schools of fish and plethora of other marine creatures.
Tracking of lemon shark pups is coined as "sharking" on the base. Sharking is arguably a favorite program of volunteers despite the fact its starting time is usually at 5:00a.m. Long before sunrise, in pitch darkness, the group assigned to morning sharking must pack up all necessary equipment such as a net that weighs almost as much as an adult female and hike up and down a rather treacherous trail to get to the sharking location. A lemon shark that is caught gets tagged, weighed, measured, and a small piece of skin from its anal fin is taken for DNA analysis. Afterwards, a volunteer gets a chance to release the shark back in the ocean under the guidance of a staff member. Having a shark in the hand is quite an adrenalin rush, and makes you appreciate this often misunderstood magnificent creature even more.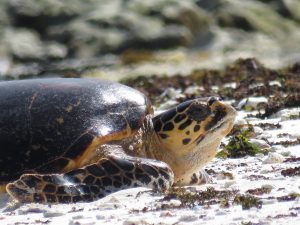 The GVI Curieuse turtle patrolling covers all turtle nesting beaches on the entire island. Word of caution to those who are considering volunteering in Curieuse is that the hikes to the beaches are long and strenuous, and in most days, the scorching Sun or other condition makes the hikes even more difficult. Additionally, there will be days where no turtle will show up on the beach being patrolled. However, when she shows up and starts her nesting process, you cannot help but be filled with wonder. During the whole process, i.e., digging a body pit, making an egg chamber, laying over 100 eggs, and cleverly camouflaging the nesting spot, a "mom" turtle shows such resilience and strength.
It is estimated that only one in 1000 turtle hatchlings survive to adulthood, a very low survival rate. In addition, coral bleaching, loss of nesting beaches to tourists, poaching, and other human activities have resulted in a drastic decline in adult turtle population. Programs offered by GVI Curieuse are excellent means to raise awareness about aforementioned issue(s) and have "regular" folks participate in projects that have potential to change the trajectory of the global environmental crisis.
*Coco de Mer is a type of nut, endemic to islands of Praslin and Curieuse in the Seychelles.