International March for Elephants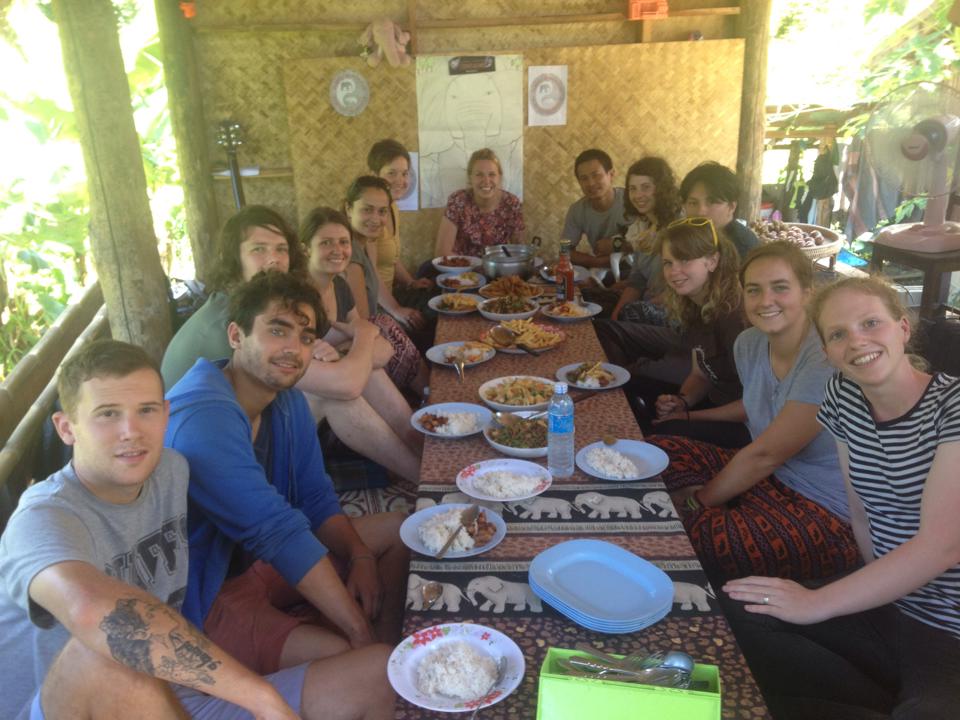 Saturday 4th October 2014 is International World Elephant March Day. To mark this occasion the staff, volunteers and interns here inHuayPakoot joined together with Emily and Burm at BEES Elephant Sanctuary situated about a one hour drive away in MaeChaem. Due to the martial law in Thailand sadly we were unable to take part in the march but we still used the occasion to unite the two projects for a day of discussion, food and fun.
After a very warm welcome on arrival at BEES we soon entered into a lively discussion about elephant welfare issues concerning Thai elephant tourist camps, the logging trade (now illegal here in Thailand but still active in other countries) and also touched upon other subjects such as legislation regarding captive elephants and the issue of babies/juveniles being taken illegally from the wild. We then watched a documentary about the logging industry in Myanmar which was very informative but left us all feeling a little upset due to its emotive content. Myanmar uses the method of 'selective' logging which heavily relies on the use of elephants to transport the felled trees from the forest as there are no roads therefore no access for vehicles. The industry shows no signs of decline and the elephants face a lifetime of grueling work with no chance of a natural life.
The mood soon lightened when lunch was served, and what a feast it was, cooked by our host Burm. There were two big steaming pots of a dish consisting of various veggies, pineapple and tofu, accompanied by plates of fried chicken, battered pumpkin and to our surprise oven chips and tomato ketchup. Oh and not forgetting the rice of course!
After lunch and with very full bellies, Emily suggested we all took a trip together to a local waterfall where we could also go for a swim. It was a hot day so everyone agreed eagerly! We set off in two vehicles and drove higher and higher into the breathtaking forest covered mountains of DoiInthonon National Park. Our first stop was at NamtokHuaiSaiLueang waterfall where we scrambled down to take some photos before setting off again in the cars to Namtok Mae Pan waterfall which is the highest in the Chiang Mai region. We hiked for about 20 minutes before we reached the stunning waterfall which cascades down a cliff more than 100 meters high. After stopping to take a few more photos we then (fully clothed) took a swim in the pool. The water was cool and crisp and much fun was had by everyone.
After a soggy hike back to the cars we headed back towards MaeChaem for dinner. We feasted for the second time that day then said our goodbyes and headed off home. It was certainly a day to remember and we will all look forward to the next time our projects have a get together!