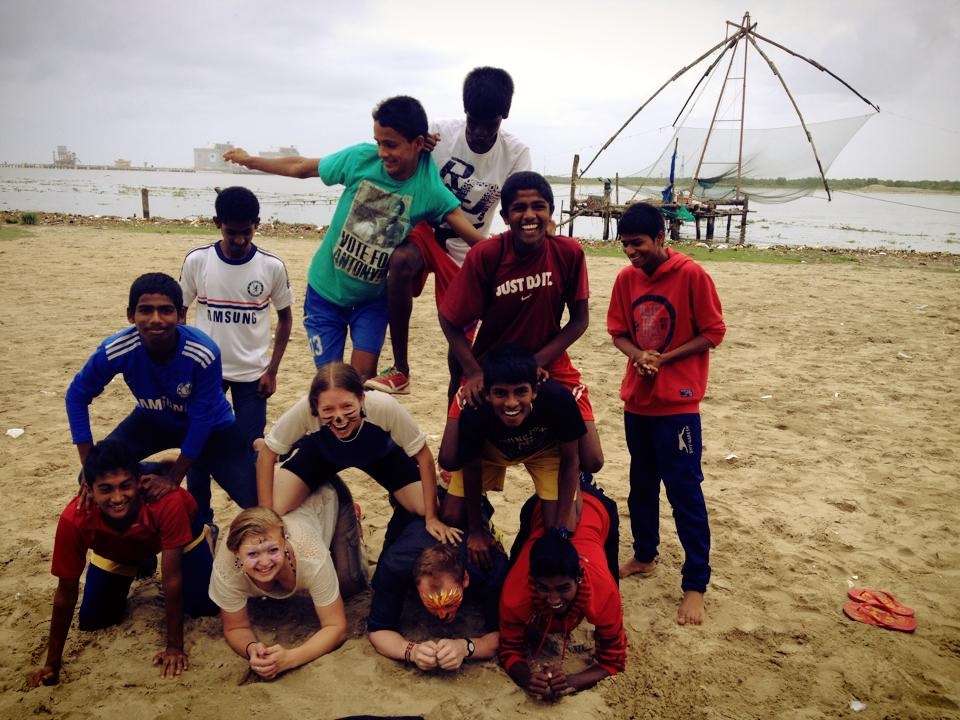 Who knew that something as simple as a scavenger hunt could turn out to be one of the best days? When I first heard that we were doing a scavenger hunt, a seemingly childish event, I wasn't sure what to think, but it was a blast. Our wonderful coordinators here, Mia and Adele, created it and separated us all into teams. I was on a team with two fellow volunteers and we competed against two other teams. The scavenger hunt started off quite normal – with a list of tasks that each team needed to complete in order to score points. Each task that was not completed deducted points from the total score, and each team had to stay together throughout the entire competition. After twenty minutes of planning, we were off! My team started off by painting our faces – I was a butterfly, one was a cat, and the final member of our team was a tiger. Then, we left base and took the ultimate tuk tuk driver selfie with five drivers in the picture along with us. Afterwards, we went to the vegetable stand to buy five raw chilies. We took the chilies to a local shop, where we bought mango juice, had the shop owner feed one of our team members a chili, arm wrestled with a man at the shop, and sang to him. Then we headed towards the beach, stopping off at a hotel to jump in their pool for a quick selfie. As we left the pool, we made sure to tell the hotel staff not to let any other teams into their pool, and it turns out that they listened as another team asked to take a picture in their pool and the staff said no! Once we got to the beach area, we got in a small scuffle with another team, as one of our tasks was to take secret pictures of other teams without them knowing. Then, along with another team member, I ate a raw chili and washed it down with fresh coconut water. It was so spicy, I wanted to cry. After that, we walked down to the beach, where we found a group of local boys who were willing to build a human pyramid with us, let one of us paint their face, play football on the beach with us (we scored two goals!), and took pictures of us doing some pretty awesome yoga. After that, we only had an hour left in the scavenger hunt, so we quickly rushed off the beach and got in a tuk tuk. We were going to Jew Town, stopping off at the spice market on the way, where we ended up having a dance-off with our tuk tuk driver. Once in Jew Town, we took a selfie with a giant boat in a shop and a picture in front of the synagogue. Next, we headed back to Fort Kochi, where our tuk tuk driver let us exchange a coca-cola straw for a drive, then allowed us to go to his brother's house, where we exchanged one team member's lungi for one of his brother's lungis. Afterwards, we had to part ways with our driver and ran off to finish the tasks and had a random local draw a picture of our team. We ended up at a cake shop, where we picked up a cake for Mia and Adele and ran back to base. The cake won us a few extra points, but it all came down to the final race at the end. It was a relay – a three legged race, an egg race, and then race on hands and feet. Our team started off strong, and slowly made it to first place, only to lose at the very end! Points were then tallied, and a winning team was announced…we ended up getting second place, but that was okay, because it was such an enjoyable day! Overall, the scavenger hunt was a fantastic experience and a wonderful way to be able to bond with my fellow volunteers.
Subscribe to our Blog
GVI on Instagram
Sorry:

- Instagram feed not found.
GVI on Facebook