I had amazing experience with GVI……
I had amazing experience with GVI……
Josephine Saleri was Mombasa first National Scholarship Program Candidate. Josephine joined us in September 2012 . She had just graduated from teacher training college and GVI offered the opportunity to join the program as a volunteer. This gave Josephine the chance to gain some teaching experience, but also learn about different cultures living alongside volunteers from many nations. This is Josephine's experience.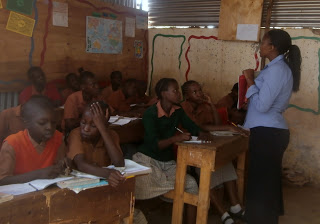 Josephine with Standard Six at Nyota
Working with the GVI is the best and greatest experiences ever in my life .Things are totally different to what I thought.

 

GVI has enabled me to interact

 

 

and learn a lot from not only the pupils and the local teachers, but also the volunteers, the GVI Staff and the community at large.
 

GVI has contributed much to my career as a teacher too. I learnt how to teach one to one and group reading and phonics which are very important activities that enhance pupil's development in language and social skills. I also got the opportunity to exploit the role of a teacher in Active Learning.
The pupils are so inspiring and motivating. Myself being born, raised and schooled in the village, I understand the challenges that are faced by such pupils.

 

Despite the challenges, these pupils are not left out in education. In fact they are working with determination to achieve the best in their life.

 
My first day in standard 6, all the pupils told me what they wanted to be in future. This is shown in their class work which they are so devoted to.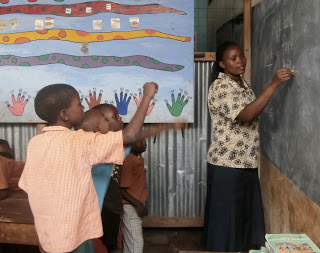 Josephine teaching Standard One at Nyota
I like all the lessons I attend and I make sure to give them the best out of me. Pupils struggle to speak in English which is becoming better each day. They actively participate in the English lessons which I do appreciate by rewarding them in different ways. P.E is enjoyable, playing with the pupils creates time to get to know them better. I play football , mostly with

 

class six

 

.while I do rope skipping

 

and a local ball games with the girls from standard 4

 

. The pupils are very creative . From drawings to paintings which are very nice.

One to One, Group Reading as well as Phonics with Standard 1 are good lessons and great fun way to learn.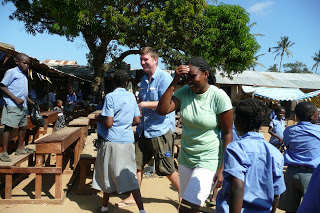 Josephine at Olives end of year party
Life has been contrary to what I thought being the only Black African, Kenyan in this house. I tried to figure out how everything will be knowing that I have never had even the shortest conversation with the Mzungu (Swahili for white person ) except

 

talking to Julie Dawson( A Project Manager from Gvi). I met her back in the village where I was spending most of the time with my mother in the farm since no school could employ me without any experience. I thank GVI for appreciating me and giving me the opportunity to obtain some experience in the classroom. I thank Julie for all her efforts

 

connecting

 

me to GVI which has taken me to another level.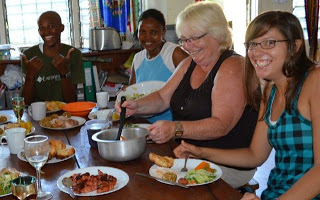 Sunday lunch with fellow volunteers
Living, cooking, dinning, sharing, walking, talking, playing, going out etc.

 

With follow volunteers and having the chance to experience so much. To be honest most of the things are new to me but I live, like, love and enjoy it. I just learnt how good and kindhearted my fellow volunteers are.

      
Great fun at the Halloween party with volunteer Lovisa
                                                                                                           

I had the chance to go around the world within the shortest time ever! From African, Chinese to Italian dishes just mentioning a few. Having a Sunday Roast Dinner with my boss (Michele) and mates is such a nice thing that we don't do in the village. That big family!……I love them all. OOH! Halloween was amazing!. I keep smiling whenever I recall all the events of this day. Honestly, it is a lot to tell. Not forgetting Thanksgiving. I enjoyed

 

going out places

 

having different

 

types of meals in different

 

restaurants .The time I have spent

 

 

both at the beaches

 

and in

 

the

 

house with my mates, playing different

 

sorts of games' I value all this time we spent and shared

 

together.
Josephine with team mates Lovisa and Matt
The best of all is when my boss and I went to La Veranda an Italian restaurant followed by a classical concert performed by a local amateur group .The meal was delicious and the music so pleasant. I had never watched that kind of performance before, it made my day! This is one of the places I hope I can go back when I get the chance.
Thank you to all the volunteers who have made me feel so welcome and part of the team and to the staff members who treated me with such

 

genuine friendship and respect

 

. I will never forget this experience and all the fun I have had. Thank you GVI. 
Subscribe to our Blog
GVI on Instagram
Sorry:

- Instagram feed not found.
GVI on Facebook