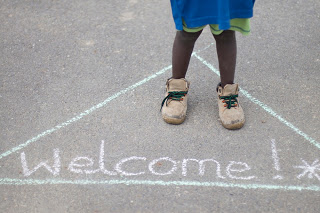 There is nothing glamorous or sexy about life here in Gordon's Bay, but I couldn't have a bigger grin on my face. There's no more fluff, no more distractions, just raw real life.
I spend my day at Ikhayalethemba Orphanage, in the Nomzamo township located just outside of Gordon's Bay. Townships, or informal settlements, are plentiful there. In a nutshell they are an extremely large collection of shacks. It's hard to explain, but try to imagine 1,000s of tiny wooden and metal huts smushed together as close as possible with no proper roads, electricity, plumbing, sanitation, and lots of roaming goats. It is free to live there, so people build their houses wherever and however they can. Needless to say, I felt like a real jerk driving in the first morning after I had bitched about having to drink instant coffee with my breakfast.
23 of the happiest, most loving, and most resilient children I have ever met live at Ikhayalethemba. On a high horse? Spend five minutes with these children and you'll hop off really quickly. Here you cannot impress with your job, your wardrobe, how much you have, or how much you have done, you are soley loved for being present and being you. They greet you each day with a huge smile and a hug like no other, just because you are there to be with them. The love given by these kids give is an amazing and humbling phenomenon to witness.
I am eager to see what the next few weeks hold, and to let the rest of my journey unfold. but for now I am starting off this week with a humble and happy heart.
Subscribe to our Blog
GVI on Instagram
Sorry:

- Instagram feed not found.
GVI on Facebook