How to have fun and exercise at the same time? Have a field day, it's 2 in 1, like the shampoo!!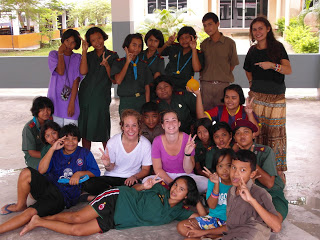 Happy and healthy people after the Field day!

 As a healthcare volunteer part of our goals is to get the school children into a healthier lifestyle. So today Cara (health volunteer), Julie (staff), and I put on what we call back in Boston a "field day." 

We went to the Baan Nam Khem school right after the classes finished for the day and met a group of about twenty of the older kids. We split them into two teams and then played a bunch of relay races!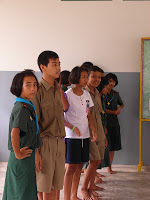 Concentration!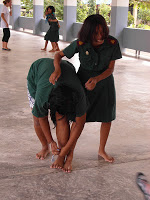 Little struggles during the
3-legged race!
















It was wicked fun trying to teach the kids how to do three-legged races, potato sack races, and other races that we'd learnt on our own field days back in the states. We ended with a water ballon throwing and catching contest which left everyone wet and screaming with laughter.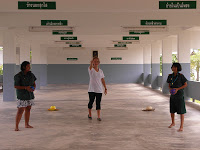 Elise explaining the rules…

Interacting with the kids like we did today is probably the most satisfying part of volunteering here. You don't need to speak the same language to have fun laughing and playing games together!

Elise Gershman – Health volunteer