How GVI Volunteers Help the Local Community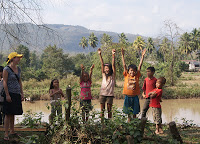 Salaries for Lao teachers who partner with GVI volunteers.

Sponsorship of 12 Novices at MEC for English classes.

General expenses of Temples.

Class sets of text books and other resources for Wat Mano, Monk School, Wat Pasaviet, Kok Gniew, Wat NaXang and ethnic school in Numbuk.

Medical costs for Novices – Wat Pasa Viet, Wat Mano.

Medical costs for Abbot – medicine, hospital.

Whiteboards, lights, water coolers for Temple schools.

Whiteboard to Village school.

Assisting cost of electricity at Temples.

Construction materials to Temples.

Installation of wells at Temples – Wat Pha-O, Wat PasaViet.

Classroom furniture to Wat PasaViet, Wat NaLuang.

Rice to School for the Deaf.

Wifi at Xayadeth for use by Laos teachers, GVI volunteers, students.

Transport costs for student's fieldtrip.

Costs of eye screening tests for Novices.

Glasses for Monks and Novices.

School fees, clothes, bicycle and books for sponsored student.

Covering travel costs of Monk to Vientiane.

Medical, transport costs and food for Novices while in hospital.

Transport of volunteers to Temple classes.

Passport costs for 5 Monks to study in Thailand.

Assisting the families of 2 deceased Novices for funeral costs.

Assisting the families of 3 Novices seriously injured in car accident.