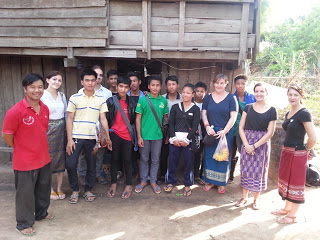 As part of our leadership course here on the project, fellow intern Forest and I planned and led a trip to a local village. It was to a Hmong village called Ban Souang Luang, half an hour from town. The village is also the home of Lao teacher Mr Ni who teaches at the college here as well as teaching English to a small group of local students each weekend. We arrived by minivan in the little village just after 2pm and met his nine eager students as we entered his home. His house is two story, as Hmong houses usually are, so the lower level is used as a classroom on Saturdays and Sundays.
So we began with a lesson to the whole group, led by Forest and myself and then we broke up into three small groups, each led by a volunteer. The students seemed to love the activities and were keen to participate. One activity involved learning words such as throw, catch, up and down and took place outside, throwing a ball. After ten minutes or so, a crowd of local children and parents had gathered, eagerly watching and wanting to join in. We found another ball for the kids and they preceeded to attempt to echo the English words they heard which was very entertaining!
Next the students took us on a tour of their local market where we saw (and had to try!) a few interesting things! The students loved pointing out various foods at the market and learning the English words which they would quickly write in their notebooks. They also taught us the Lao words and I had quite a few locals laughing at my attempts at saying the words correctly! We then headed back to Mr Ni's neighbour's house which was an example of a very traditional Hmong house. A lovely little old lady lived there and with her permission, we squeezed ourselves into her small home. She chuckled the whole time we were there, looking around at us happily. Mr Ni explained some of the Hmong beliefs and the reason they have two doors in all Hmong houses. One is called the 'spirit door' and is only used during special ceremonies and celebrations. It was very interesting to learn as Hmong culture and Lao culture are very different.
We ended our visit with farewells back at Mr Ni's house and we left the students with some stationary gifts. It was a great day had by all and I hope to plan another visit there in the future.
– Written by Sian from Australia who is on the project for 6 months! Thank you Sian for all of your hard work 🙂