Helping flood victims in Bangkok

21st November 2011
A month ago we sent care parcels to flood victims, using generous donations made through the GVI Charitable Trust. Last weekend, taking a more hands-on approach, eleven of us took a truck of supplies on the 14 hour journey north.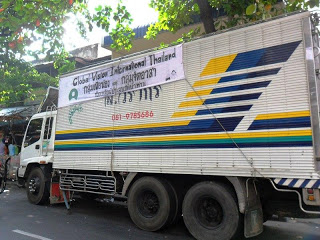 In Central Bangkok, with our load of over 3000litres of drinking water, rice, toiletries, basic medical supplies and pet food, we met up with a group of volunteers from the Ministry for Social Development and a group of university graduate friends volunteering their services.
They added another 1500 litres of water, fruit, vegetables, cooking oil, pre-cooked meals, 200 care parcels and a box of toys to our hoard, also bought with Charitable Trust donations. With their local knowledge our truck, piled high with supplies and now 25 volunteers, took the slow journey out to Phuttamonthon in the western outskirts of Bangkok.
Signs of the flooding quickly surrounded us; lines of cars parked along raised bridges, houses and businesses inundated and abandoned, makeshift shelters in the middle of the highway, boats being towed along high streets. The size of the clean-up operation that will be needed when the water finally subsides became clear.
Where buses could slowly get through they were packed with people trying to get on with their daily lives. In worse affected areas people clung to any vehicle able to pass through the waters, trying to collect supplies to take back to their still water-logged homes.

Moving further west, the waters crept ever higher and buses were quickly replaced by the taxi boats of entrepreneurial locals, until even our own intrepid truck driver said he couldn't take us any further. Wading through the water, we transferred supplies to makeshift boats and piled in after them.
We delivered goods to a wat, or temple, that distributes much needed provisions to people still struggling to live in the local community, their homes waist deep in water with no access to basic supplies, clean water, fuel or electricity.
Word of our arrival quickly spread and boats surrounded the temple (along with rafts made of plastic bottles, washing tubs, polystyrene and anything else that would float!), as the head monk accepted
our offerings and gave each of us an amulet. Even the multiple cats and dogs living in the temple were grateful to see us, scratching at the pet food sacks until they were opened for them!
Afterwards we drove around the flooded streets giving out supplies as we went. Some locals hitching a ride told us that transportation is so difficult that very little support has been sent their way, with some areas receiving no help at all, and any stores that are open are all but empty.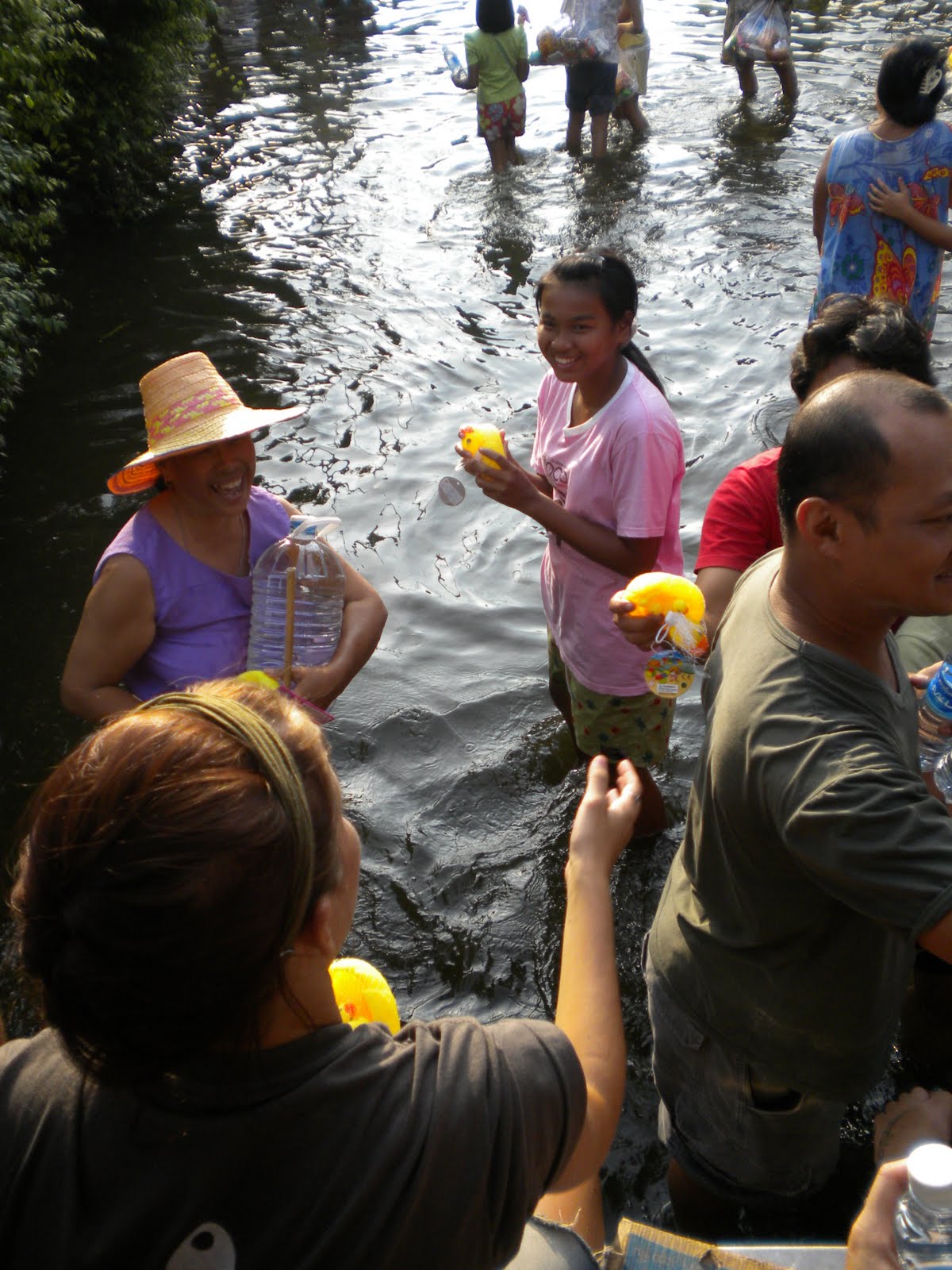 Some had made the long journey through the stinking stagnant water to the main road, only to be rewarded with less than a litre of clean drinking water. They were all grateful that fact we were there and smiling faces greeted us all the way along our journey.
As the severity of the floods and the enormity of the clean-up task became apparent, one thing struck each of us: the incredible resilience, warm-heartedness, positivity and ingenuity of the Thai people. Their seemingly never-ending capacity to keep smiling is incredible and infectious, and has made a lasting impression on each one of us.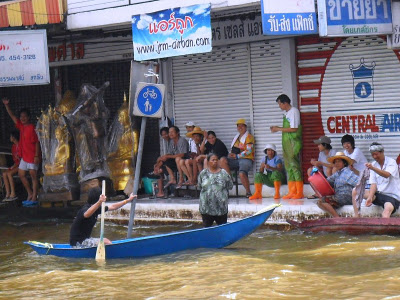 Further projects are planned to help with the massive job of cleaning up after the waters subside; to donate to this fund please visit our Just Giving site to donate in pounds, or our Global Giving site to donate in US dollars

Subscribe to our Blog
GVI on Instagram
Sorry:

- Instagram feed not found.
GVI on Facebook