Health Care Project at Ikhayalethemba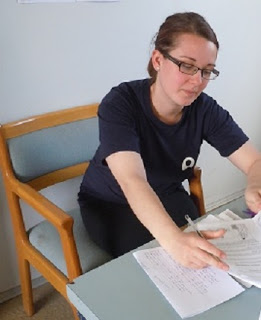 We were delighted to have Rachel join us for our first Health Care project in Gordon's Bay.

 

Although Rachel's project was only two weeks long, she managed to achieve a lot.
The set up and maintenance of First Aid kits is a big task and Rachel took it on with enthusiasm.

 

She set up 5 new kits one for each of the Houses at Ikhayalethemba. With this she also set up checklists and photographs of each required item.

 

This set up will work really well to monitor the contents of the kits and also makes it easier for carers to check the contents using the picture cues as it caters for the range of languages read and spoken.
Rachel's second task was to work with one of our children with Special Needs who is non-verbal.

 

Rachel took photographs of the child doing a range of tasks such as drinking, eating, reading a book and kicking a ball. We are now gradually introducing these to the child as a way for her to communicate and also as a way for her to learn to make choices. This contribution from Rachel in her Health Care project has made a big difference to the child.
Our first Health Care project in Gordon's Bay has led to two significant changes….Thanks Rachel.
Subscribe to our Blog
GVI on Instagram
Sorry:

- Instagram feed not found.
GVI on Facebook