Hair washing at Male Patan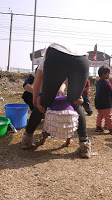 We do sometimes
put our volunteers
into awkward positions-
Thank you Amanda!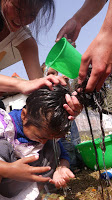 Nikita getting her
hair washed
Two very brave volunteers, Amanda and Kevin, took our request to hold a healthcare workshop at Male Patan Daycare in their stride.
Teeth brushing and hand washing is something that is done every day at the daycares but we always try to make it a big deal to encourage the kids to continue these tasks at home.
We added in an extra activity to emphasise good personal hygiene on this day though – hair washing and lice checks!
As a lot of families here don't have running water at home and the weather is so cold in the morning and evening, hair washing can be a task left undone for quite a while.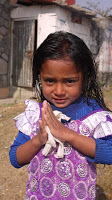 Nikita with her
long clean hair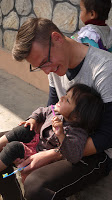 Kevin doing the smile
check on Sabitri
We set up our buckets of water out in the sun, and all volunteers and staff were set tasks.
The Didi's and I were on crowd control, Ruth was the comb and towel station (and part time photographer), and of course the hair washing was up to Kevin and Amanda.
While planning our strategy of attack it was decided to leave little Nikita to last as she has the longest hair of all the children at the center.
Turns out it was a very wise idea as not only washing her hair was going to take a while but also combing her knotty hair would need to be completed very carefully.
The workshop was a great success!
Shiny hair, sparkling teeth, and germ free hands were our outcomes for the day.
Fun was had by all children and adults that got to spend the day splashing around in water!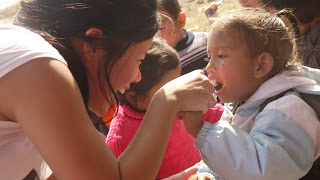 Amanda helping Alysha make her teeth sparkle