GVI Celebrates Four Years in Nomzamo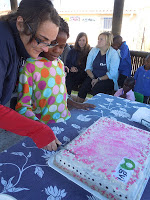 On Friday 9

th

August it was fun for all as we celebrated four years of GVI working in Nomzamo. Our celebrations were at Ikhayalethemba Orphanage and Mama Lumka, our first Project

 

Partner here in Nomzamo, welcomed our celebrations at her orphanage with great enthusiasm. There is no doubt she values the support we have given in the township since our partnership began back in August 2009.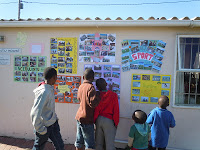 Our current volunteers used their social night to make a display of photos showing the past four years and these were displayed on the day.

 

It certainly highlighted how much can happen in four years. The posters are now proudly displayed in Mama's office.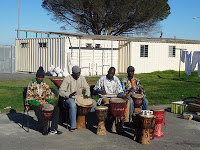 We had a drumming group to entertain the children, carers and volunteers. We all had the opportunity to drum along as well as dance. For those of you who know Lea……well you can imagine how keen she was to join in with the drumming and became an honourary member of the group for a while.  Her skills never cease to amaze. The drummers created a great atmosphere for the celebrations.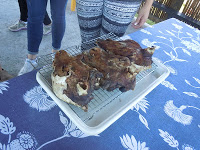 Our volunteers had a chance to try smiley, a traditional South African food.

 

Some liked it, others weren't so keen but any left overs were quickly devoured by the local children who lined up eagerly.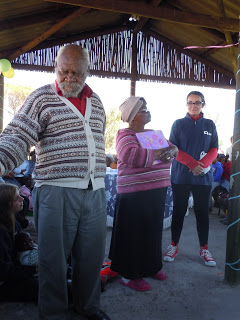 Once the drumming ceased it was time for speeches and JT our Programs Manager thanked Mama, her family and staff

 

as well as all volunteers past and present for all their work in Nomzamo and Zola. She also acknowledged all the dedicated GVI staff who had made contributions to the projects over the time. Mama also thanked everyone from GVI and hopes that we will continue to have volunteers to help in her community in years to come.
JT was then joined by one of the local children to cut the celebratory cake which was shared by all who were present at the celebration.
 

It was a great day, and to all staff and volunteers who have made a contribution over the past four years, we thank you.