By Kyle Thomas
4 years ago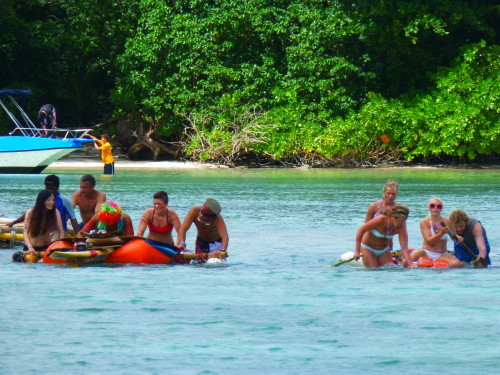 Kyle here: the newest scholar at GVI Cap Ternay. It's been a busy week for as all here in paradise, fund raising and FUN-raising. With the raft race last Thursday, our time was full of preparation time, including bamboo collection, "the war of the float distribution", raft construction, and team preparation. With flags waving and chants ringing in the sky, our teams fought for the ultimate victory, that of bragging rights over dinner!
It's truly self-inspiring to realize the extent of one's hard work and perseverance. After the race we had an amazing Creole BBQ prepared by the SNPA grounds keeper, Phillipe, and ate as much food as we could fit into our hungry little mouths, followed by the awards ceremony. The raft race winners were crowned; congratulations to the MCSS team for the win, as well as UniSey and SNPA for their respectable positions. The evening consisted of yet more delicious food (chilli dogs – we were being spoilt!) and the screening of our team videos. Watching each other make fools of ourselves finished the evening perfectly before the overall competition winners were announced. Glorious lifted above the screaming masses, my team was declared the champions of the raft race for rupees. Thankfully raft race position isn't the only thing taken into account in deciding a winner, as my team came second to last, but also considered were fund raising, team spirit, and team preparation. Well done Luch, Cayleigh, Alyssa and Kay! In total GVI has managed to raise over £800, thats 58% of our target. Donations are still accepted, so if any of you reading this are interested in participating to provide Presidents Village Children's Home with solar panels for a long term, sustainable energy source, then please go to www.justgiving.com/GVIRaftRaceForRupees.
This week itself has unfortunately been slightly rainy, so as tans start to fade, and water temperature starts to decrease to the shivering temperatures of 27 degrees Celsius, the wetsuits have come out (seriously!), as have the raincoats. Don't worry, its not all gloomy here though! The Tropical climate means we experience short but heavy downpours for 10-20mins, followed by periods of sunshine, and the cooler waters are bringing in more and more plankton; which leads me too……
Whale sharks! They are here, just waiting to be seen. Yesterday one was spotted at one of our dive sites by another dive operator, and there have been several sightings around the island. The increase in plankton (the main food source for whale sharks and manta rays) is leading us nicely up to whale sharks season here in the Seychelles, and sightings of Manta rays, Devil rays, and Dolphins have also increased. Recently, a few other lucky volunteers and I have had the pleasure of snorkelling with a pod of dolphins, including juveniles, spotting a large devil ray (if you don't know, google it!) at the same time!
Well that's me for today! I'm off to look for whale sharks and play in the rain! Luckily it does not rain underwater!