Wondering what to eat when volunteering abroad in Laos? Look no further. Here are GVI's top picks for dishes you must eat when in Laos.
As a fusion of the French and Asian kitchen, Laotian cuisine is deliciously complex. Fresh herbs and tender meats take front stage when creating the traditional foods of Laos.
1) Khao Niew (Sticky Rice)
Khao niew is a staple in Laotian cuisine. A lot of Asian countries use a variation of rice as a staple in their food, and Laos is no different.
This fresh, steamed sticky rice is the perfect base for any meal, and is both filling and a good source of fibre. Khao niew is typically enjoyed with a suite of dipping sauces.
Some of the most popular dips for khao niew are jeow mak keua (smoky aubergine), jeow mak len (tomato), and jeow bong (chili paste).
Khao niew is traditionally eaten with the hands. It's a less messy experience than one might imagine, due to the sticky consistency of the rice grains. If you're going to start trying Laotian dishes, khao niew is where you should begin. When looking for what to eat in Luang Prabang, you can never go wrong with Khao niew.
Different varieties and colours of rice can be used for khao niew. These create differences in the flavor. Interestingly, Laotians traditionally consider white rice to be a purer form of the grain.  Monks will therefore only be presented with white rice. But we recommend trying different varieties of grains and finding your favorite!
2) Larb (Meat Salad)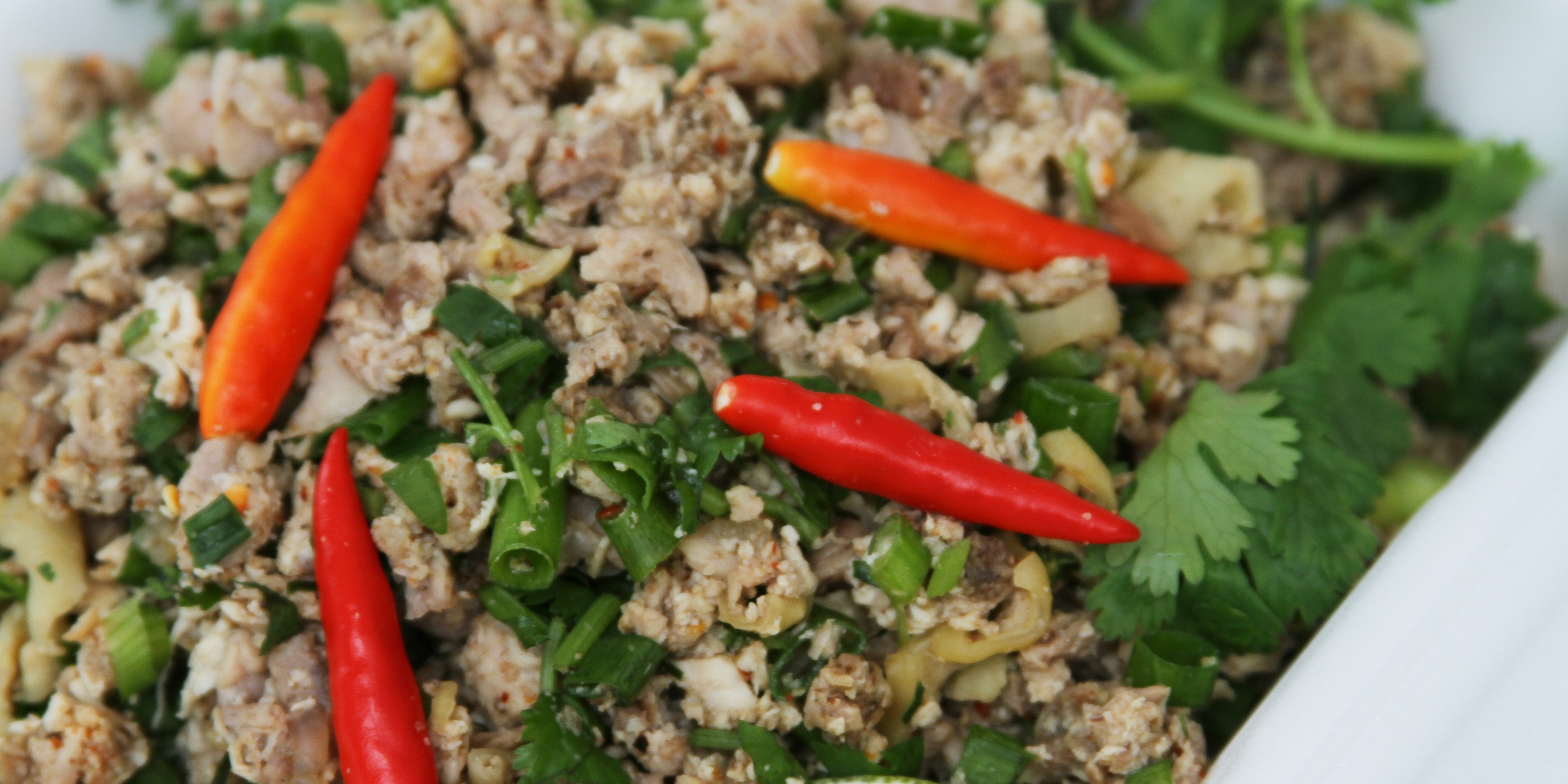 Original photo: @joefoodie
Heralded as the unofficial national dish of Laos, Larb is one not to be missed. This generous dish is usually built around a base of hearty meat or earthy mushroom. When using meat, it is always as fresh as possible, and very often raw.
What really makes this Laotian meal special is the variety of herbs and spices that are incorporated. When cooking this delicacy, one will immediately notice the fragrances that fill the kitchen: combining fresh mint, cilantro, red chillies, and shallots. Freshly squeezed lime juice is added to cut through the heavier flavors and make this Laotian dish exciting and piquant.
Larb is a beautifully balanced meal, complete with meat or mushrooms, herbs and citrus, and is enough to leave anybody coming back for seconds. This delicacy is not to be forgotten during your Laotian experience.
3) Ko Mu Yang (Grilled Pork Neck)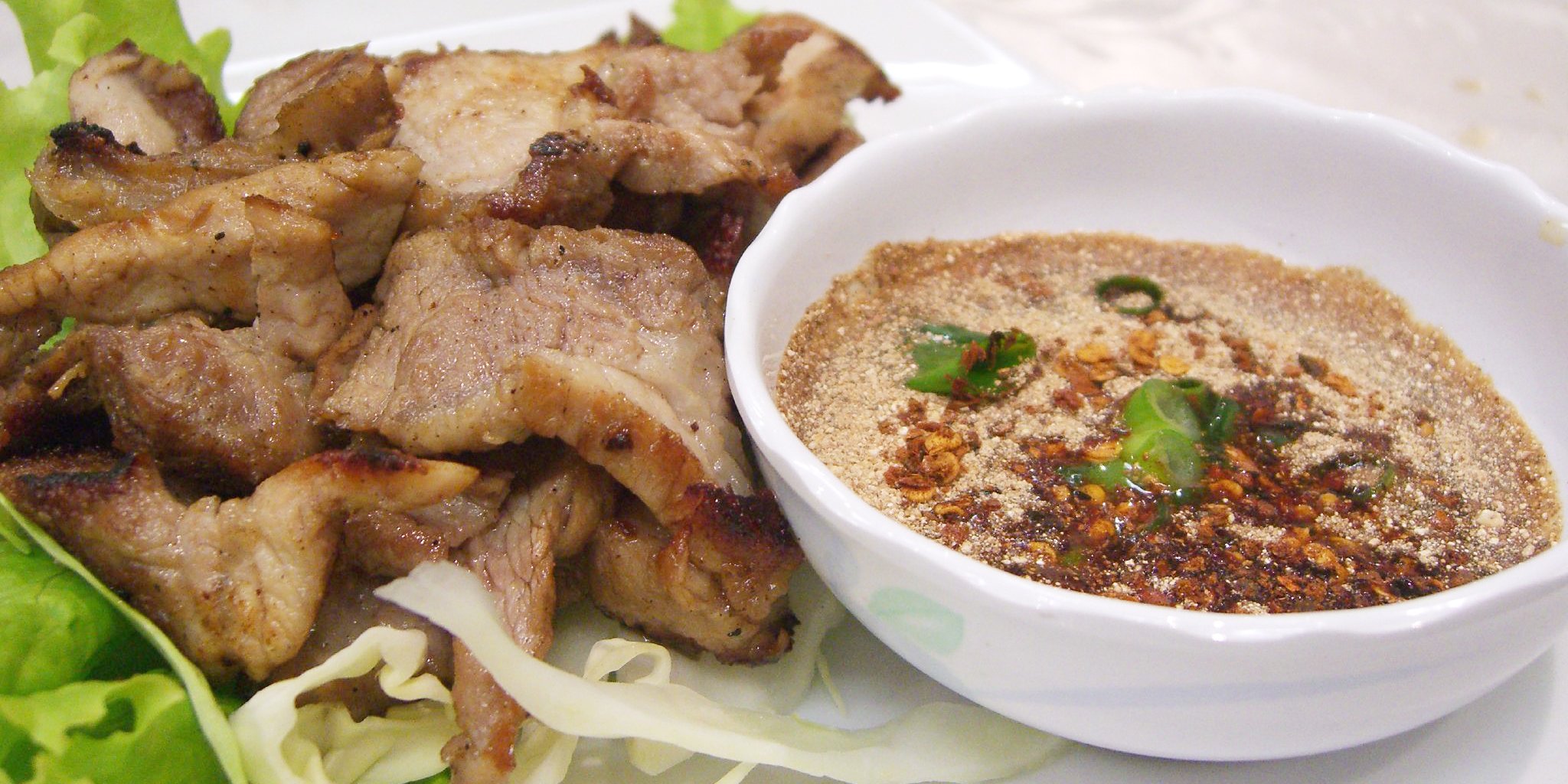 Original photo: Alpha
If you are wondering what to eat in Luang Prabang, look no further. Walking along a side street in Luang Prabang, the home of GVI's Laos base, smell the mouth-watering scent of grilled meat wafting toward you among the throngs of local Laotians going about their daily lives.
After a walk along the Nam Khan River, running through the heart of Luang Prabang city, be sure to sample a local delicacy or two.
For the real Laotian experience, buy ko mu yang on the go, from a street vendor. Ko mu yang is pork neck traditionally served in slices, accompanied by chili and dipping sauces. This is one of the unmissable dishes you must eat when in Laos.
The dipping sauces will often be served in small plastic bags alongside the meat. Green beans are also a common addition to this filling meal.
4) Thum Mak Thang (Cucumber and Shrimp Salad)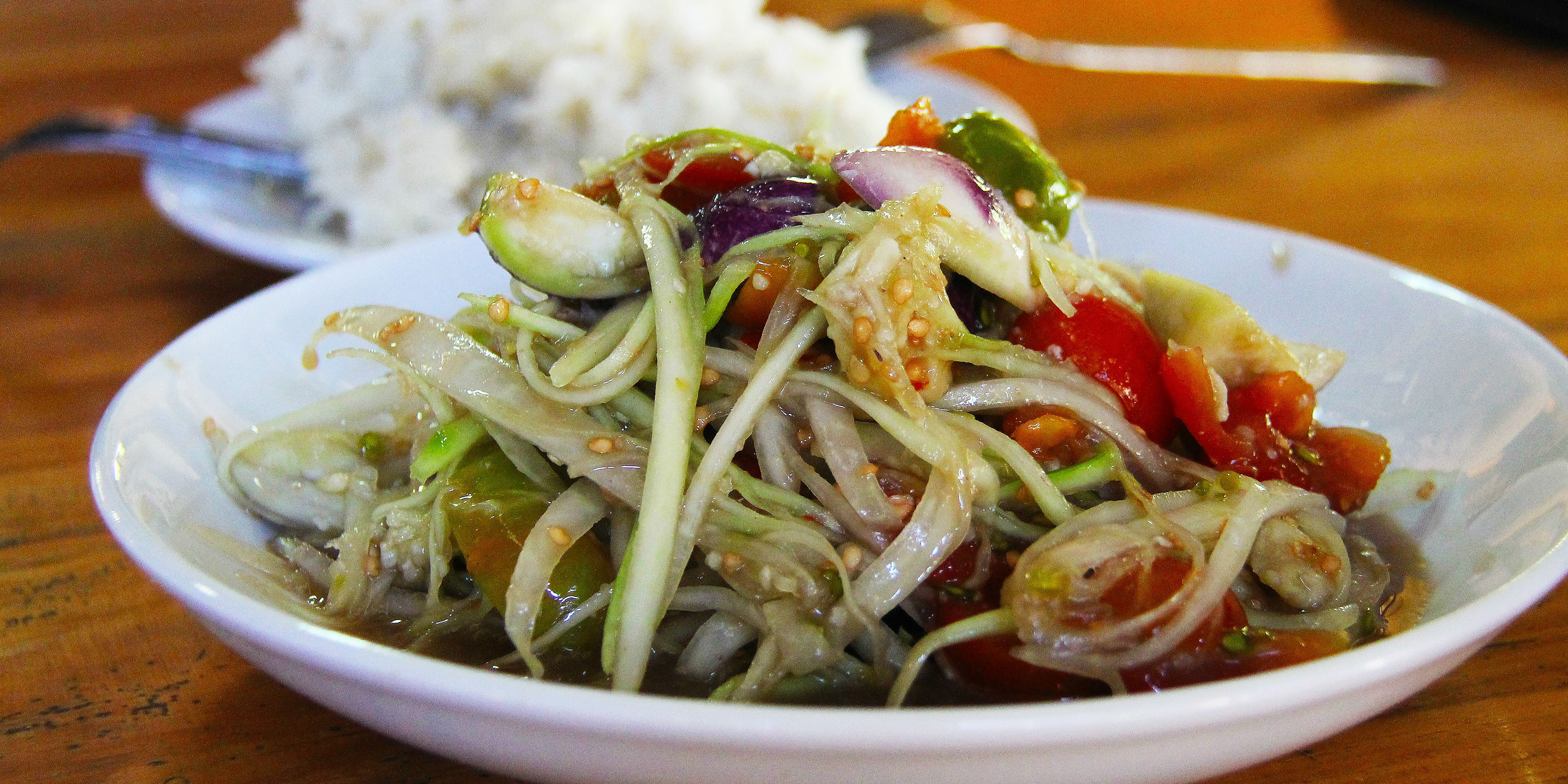 This citrus-flavored salad is ideal to combat the warm weather you will experience in Laos. A step back from the meat-based dishes that are popular in Laotian cuisine, thum mak thang will put a fresh twist on your meals when volunteering in Laos.
The recipe for this salad with a kick is fairly flexible, with the choice of adding tomatoes, beans or even peanuts. But the main base of the dish remains constant, with thinly sliced cucumber, and juicy shrimp.
The crispness of the cucumber, covered by the tart flavor of the citrus juice dressing, is not to be missed as a light and wholesome Laotian lunch.
For a more filling Laotian meal, thum mak thang can be eaten with khao niew, or khao poon (fermented rice noodles). This traditional Laotian dish can be adapted to a vegan option. Swap out the shrimp with mushrooms, and voila! This is certainly one of the most exciting dishes you must try in Laos.
5) Khao Piak Sen (Rice Noodle Soup)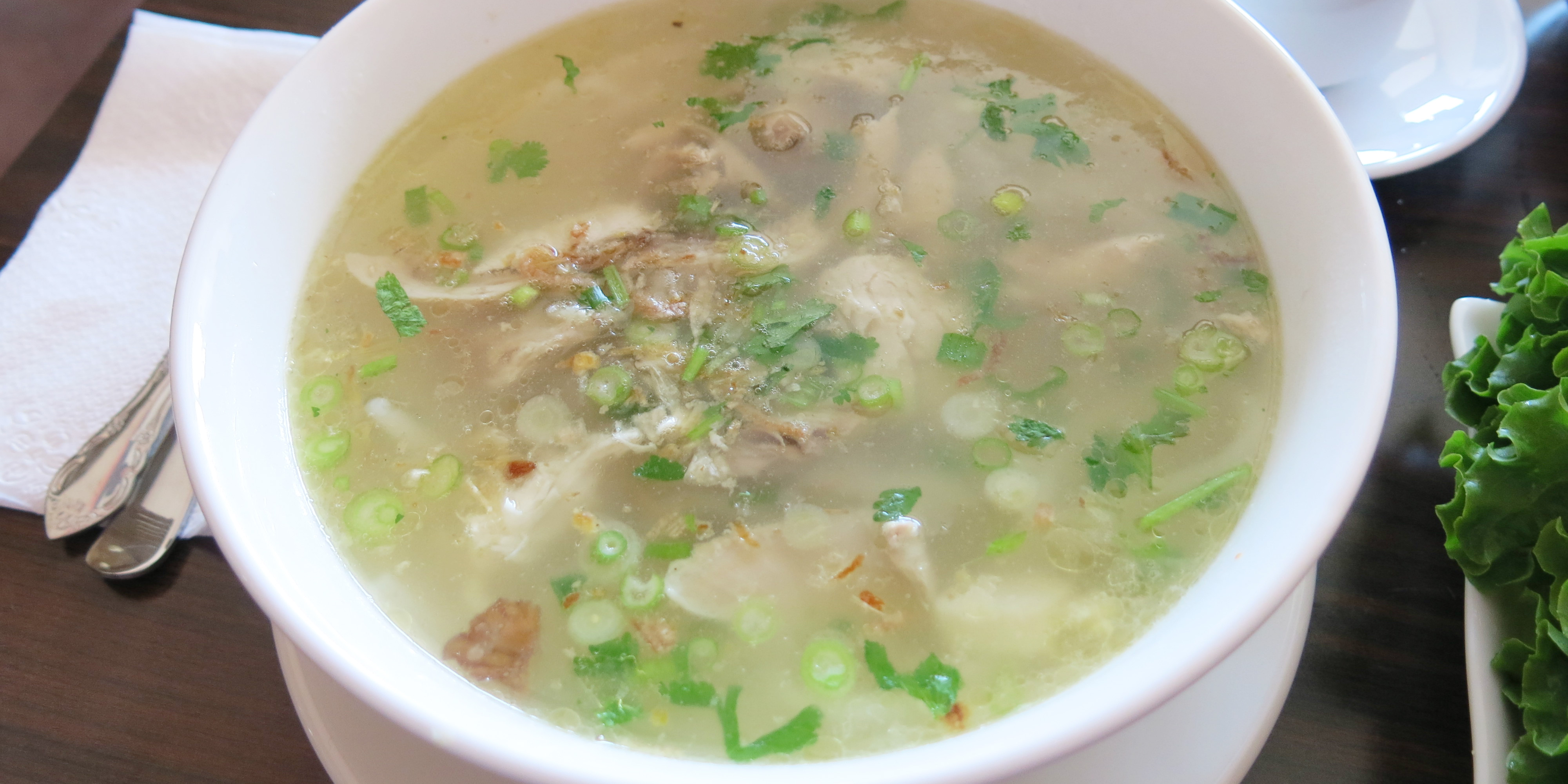 Original photo: Gary Stevens
Still unsure of what to eat in Laos? Khao piak sen is one of the staple Laotian dishes to turn to, if you want to get a real taste of Laotian cuisine.
This traditional Laotian meal is very simple, but comes together as a warm, comforting meal; the Laotian take on the chicken broth soup you had at home as a child. It is the perfect traditional Laotian cuisine to try after a long day volunteering in Laos.
The noodles themselves form the base to this wholesome soup, made from rice flour. When you're in Laos, this will quickly become a favorite comfort food, with the welcome flavors of chicken broth, combined with soft noodles.
Everybody has their own version of khao piak sen, and it is common to spruce up the dish using green onions, fresh cilantro and chili, fried garlic, and shallots.
This dish is also a great way to hone your chopstick-wielding skills. Take advantage of the simplicity of the meal to practice picking up the soft noodles. Traditionally, the noodles are eaten with chopsticks, and the warm aromatic broth is then sipped from the bowl. Try to eat it in this fashion for a real Laotian experience.
Ready to start volunteering in Laos, and taste these delectable dishes? Contact the GVI team today!