First Aardvark of the season
Out on one of our recent night drives, the last one for that particular group of volunteers, their wishes came true when they got to see the first Aardvark of the year. It was a great sighting; the aardvark came quite close to the vehicle and continued to search for his food, no doubt termites. Not the best picture but I was more excited about seeing the animal at this point. Very exciting times and hopefully a lot more to come this year.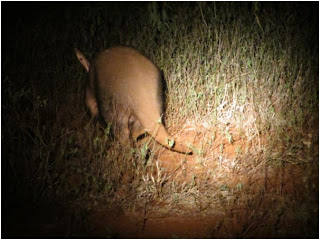 The dry, cold winter months mean the grass dies back and the leaves on most trees fall away. Coupled with the earlier sunsets, sightings of the less commonly seen nocturnal creatures are bound to improve. It is the best time for game viewing and our volunteers are in for a treat this season – if they can brave the chill!