Our favourite things - flying fish, tortoise selfies and ping pong tables!
By Jessica & Rachel
4 years ago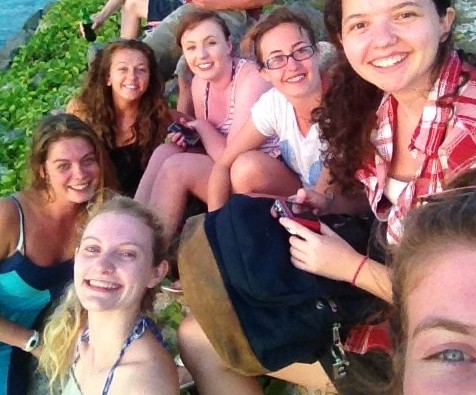 This week has flown by, and we have decided to create a list of our favourite moments:
La Digue– Last weekend we spent some quality time together on the idyllic island of La Digue (just in case we don't spend enough time together). Despite getting off to a rocky start, unfortunately a bit too literally for a few unlucky sea sick ferry passengers, we all had a memorable and thoroughly enjoyable weekend. We hired bikes to travel around the island, and even managed to squeeze in a visit to Anse Source D'Argent, the 'most beautiful beach in the world'. Amazing!!
Tortoise Selfies (our favourite!) – This week on one of our regular tortoise tickles we managed to find 4 new tortoises that no data had been collected for yet – how exciting! This meant we got to measure the tortoises in a variety of ways and collect a lot of new data (in between taking a few cheeky selfies!).

Fish out of water – As part of base duty two volunteers head over to Cote D'Or to assist with the weekly shop. As always there's a silver lining, in this case ICE CREAM!!! Between the entire group I'm sure we've worked our way through every flavour combination possible! However this week on our way back to Curieuse things took a turn for the worse when a flying fish decided the ocean was bluer on the other side and leapt onto Dexter (our boat) in hope of a fresh start. Things were quickly resolved when Julia managed to capture the fish in her hands and he or she was returned to its home unharmed.

Meat Monday – As our diets here are primarily vegetarian we have two nights a week dedicated to meat and cheese! It's something everyone always counts down to and we were spoilt this week when Dan returned from the market with a huge Job fish! Despite its size we managed to demolish it in record time! As we only get cheese once a week we always feel it's effects through lucid dreams, which always give us plenty to talk about at breakfast on a Tuesday morning! Rachel managed to end up convincing herself everyone had gone out to coconut husk (in the middle of the night) so woke up and hurried out to join the other volunteers in the pitch black! Other dreams have included zombies, anacondas and Christmas dinners. We are already excited for next BBQ night!!

New arrivals – This week we were joined by our new construction volunteer Will, who's settled into camp life extremely well! He's already determined to create a Ping Pong table for the camp, which has gone down extremely well. We were also deemed worthy enough by the staff to own our very own GVI Seychelles T-shirts, which most people have barely taken off since!

Valle de Mai – On Wednesday we embarked on a voyage across the island to Praslin to visit a UNICCO world heritage site, that's home to several endemic species. We spent the day wandering around trying to spot various creatures including the Seychelles Black Parrot, the Praslin snail and Green Day Gecko among the towering Coco de Mers.
We are already looking forward to the intrigue and excitement that next week may hold on this special and otherwise uninhabited island (the only inhabitants being us, the rangers, the very cute tortoises and a variety of other wildlife!).