Exploring the Garden Route
When you volunteer on our Cape Town projects you can also do a range of side trips either through GVI or some of the local companies.

 

Many of our volunteers allow time after their volunteering experience to explore what South Africa has to offer. Others fill the weekend seeing the sights.

 

Here's a recent adventure by some of our volunteers.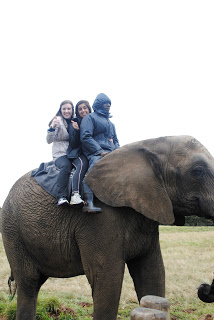 This past weekend, we went on a three day garden route tour with a company called Cape to Addo.

 

The weekend was packed with many activities, beginning with a safari on Friday afternoon.

 

From there we went on a walk with lions.

 

Literally.

 

After the lion walk, we went to the hostel where we stayed for both nights.

 

The hostel, Afro Vibe, was directly on the beach and had a fun laid back atmosphere.

 

During our time at Afro Vibe, we became friends with other volunteers and swapped volunteering stories.

 

We enjoyed traditional South African food that was prepared by Afro Vibe staff and went to bed excited for the next day.

 

We had an early start Saturday morning, but there was no complaining because we had the chance to walk, feed, and ride elephants!

 

Next was bungee jumping at the world's highest bungee jump bridge, the Bloukrans Bridge.

 

Everyone participated either by daring to walk across the bridge or by jumping.

 

Sunday morning we went to the Cango Caves and did an adventure tour.

 

We squeezed through spaces we never imagined anyone could fit through and we were thoroughly impressed by the natural beauty of the caves.

 

The caves were our last large adventure, but driving back was enjoyable as well, because we drove through the mountains and watched the sun set behind them.

 

We were surprised by how much we could fit into such a short amount of time and we now have many fun stories to tell our friends and families.
Michelle, Christine, Heather and Taylor