Exploring around during the weekend - Cenote trip!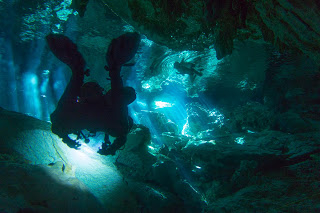 This weekend, a group of volunteers took advantage of the Yucatan's unique geography and tried out cenote diving.  There are tens of thousands of cenotés in the area. They are natural pools which occur where the limestone surface collapses exposing the ground water beneath, and many are connected by underground rivers. T
he Mayans believed that they were entrances to the underworld.
At the centoé The Pit we got our adrenaline pumping jumping off the 6m high platform into the cool blue below. Then we got into our kit and descended down into the deep, through the halocline and the hydrogen sulfide cloud, a completely different experience to our usual dives in the sea. As we circled back to the surface we saw the water line from the last ice age, Mayan pottery, beautiful rock formations, 100 metre visibility in the crystal clear water, and our dive buddy's air bubbles illuminated by the light rays from above.
We followed up with 2 dives in Cenoté Dos Ojos the main Cenoté of Sistema Dos Ojos, which is currently considered to be the fourth largest underwater cave system in the world. It featured spectacular limestone formations and we surfaced into a dark creepy cavern filled with bats. We also went diving at CenotéPetCemetrey, where we saw animal skull and jaw bones, and tested our buoyancy skills in the shallow water and narrow tunnels.
After a great weekend, we were all keen to get back to base, go diving in the salt water again, and get back to work practicing our underwater fish and coral identification skills.