El Cocal school gets a star on the Bandera Azul.
"The "Bandera Azul" is a program which promotes ecological awareness throughout the country of Costa Rica. It works in concordance with many official sectors such as the Costa Rica Tourism Institute (ICT), Public Health Ministry (MS) and most importantly as far as El Cocal is concerned, the Education Ministry (ME).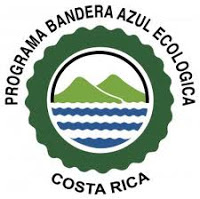 In order for the school to participate, the program standards must be adhered to within the school, in order to earn and attain "estrellas," which are awarded by local government officials in recognition of the school's efforts to implement the program's rules. El Cocal school was the proud recipient of one such star last Wednesday and held a ceremony in celebration, which GVI were lucky enough to not only attend, but also take part in.
The celebration consisted of speeches by the Director of the school, as well as representatives from the local government, and the kids put on several skits to show the effects of good ecological awareness as well as performing a dance while wearing traditional dress. The pride that the school took in making everything look as good as possible for the distinguished guests, and their desire to show off everything they had to done to implement the program was very special to see, especially for a poor area like El Cocal where pollution is a big problem.
The afternoon before, GVI was approached and asked if they could take part in the ceremony and do some sort of performance to show the international influence at the school. This led to Patrick sidling up to me looking rather sheepish and asking if I happened to be in good voice. (That'll teach me to boast about having any form of musical talent!) After much deliberation, and the only guidance being something "culturally relevant," I rejected the idea of singing anything by N-Dubz and decided to go for a simple a capella Scottish song that I'd known for years. It just goes to show you never know what you're going to end up doing out here. If someone had told me I would end up singing "Caledonia," for a bunch of Costa Rican officials I would have been a tad sceptical.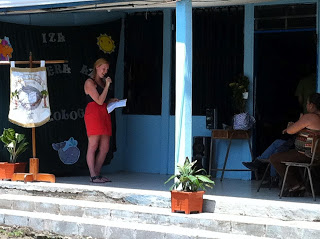 It was a nice multicultural moment though and seemed to go down well with everyone. I had a great time being able to share some of my own culture and to feel so included in theirs. Somehow, through singing my song I felt I was able to connect with the school and the community in a way I hadn't yet managed to do in my initial two weeks in El Cocal. Walking into class today and hearing two of the girls telling their teacher that I was the "the girl who sang," and begging me for another rendition was a lovely thing to hear first thing on a Monday morning. It has boosted my confidence a huge amount and I hope to be able share more of my culture while continuing to immerse myself in theirs throughout the rest of my time here."
Katie – Community Program Volunteer
Subscribe to our Blog
GVI on Instagram
Sorry:

- Instagram feed not found.
GVI on Facebook