Diving and More at Pez Maya
Voice from the field,  Jul 12, 2013 – Week Two Pez Maya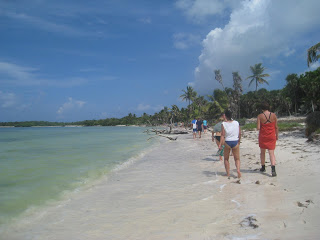 last week volunteers did not begin as scheduled.  Rough weather and engine trouble delayed diving for the first couple of days. However, this did not stop us from getting in the water and exploring the incredible marine life of the Yucatan.  For both days that diving was not possible, the volunteers, determined to explore the waters, hiked an hour to the Point and snorkelled to practise spotting the fish and coral species throughout Yucatan and the Caribbean.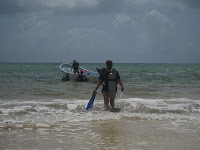 Diving resumed on Monday as staff corrected the trouble, so the operations of marine cataloguing and dive training were continued.
Not only has this week at Pez Maya consisted of marine evaluation, but a base kitchen clean, community work and turtle monitoring filled major amounts of time.  We worked to keep base as clean as possible.  The biggest job in this respect is kitchen clean.  Everything is removed from the kitchen, cleaned and sprayed before each object is replaced.  If the days weren't busy enough, nights surely make up for it.  Each night, two volunteers go with staff to the San Juan beach, also in the Sian Ka'an reserve to watch and collect data as turtles build nests and lay their eggs.  This project is new to Pez Maya and helps us understand the global turtle populations and their nesting habits.  Species monitored include the Green Turtle (chelonian mydas), the Loggerhead Turtle (caretta caretta) and the Hawksbill Turtle (eretmochelys imbricata).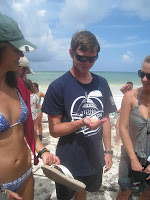 From the beaches of the Sian Ka'an biosphere reserve to the community of Punta Allen, GVI volunteers constantly work to improve conditions around the Yucatan.