Dancing the Evil Away and Ushering the New Year in!
The last day of the year is a time to clean and prepare for the approaching New Year. In the monasteries it is a day of preparations. The finest decorations are put up and elabourate offerings are made called 'Lama Losar'. In the early dawn of this day, the monks offer a 'sacrificial cake' on top of the main temple in Potala, Tibet. To the supreme hierarchy of Dharma protectors, the glorious goddess Palden Lhamo. 
At new year, the pilgrims arrive from all corners of Nepal and descend from the Himalayan regions to take part in the Lama's masked dances. Yesterday I spent the morning at a local monetary near

Swayambhunath

to watch monks dance away the evil of the old year away and auspiciously usher in the new one.
The most important holiday for Tibetans is Losar. Losar is a 3 day festival. One the first day celebrations are usually restricted to the family, with the second and third day being time to visit and exchange gifts with friends and more distant relatives. It is also a time form Tibetans to visit monasteries and make offerings.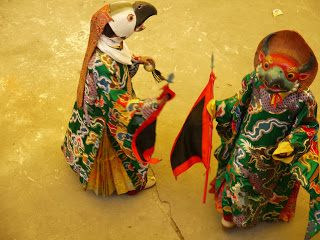 The New Year festival is a colourful week of activities including Tibetan dram, pilgrims making incense offerings, Tibetan dressed in their finest crowding the streets and buildings are whitewashed and thoroughly cleaned.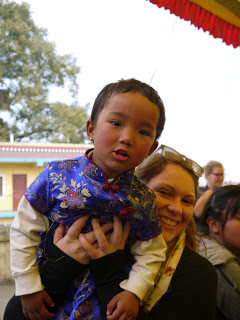 The festival of Losar can be tracked back to pre-Buddhist period in Tibet. In the time when Tibetans practised the Bon religion, every winter a festival was held where people offered large quantities of incense to please local spirits and deities.
Now this festival has become the annual Buddhist festival we know as Losar.
Subscribe to our Blog
GVI on Instagram
Sorry:

- Instagram feed not found.
GVI on Facebook