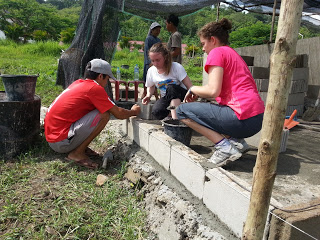 Today we started a construction project at the School for the Deaf in Luang Prabang. Two volunteers, Lucy and Olivia from England will be working on the project for 1 month. Their first project is to build a fish pond out at the School for the Deaf. The school is located on a large piece of property outside of town with lush mountains as a backdrop. There are chickens, cows, dogs and pigs roaming around amongst the banana trees. What a beautiful place to work! These lucky volunteers will also learn a little bit of the Lao Sign Language so they can communicate with the children living at the school. We will share more photos of the enormous fish pond once it is completed.
Subscribe to our Blog
GVI on Instagram
Sorry:

- Instagram feed not found.
GVI on Facebook