Construction Project at Grade R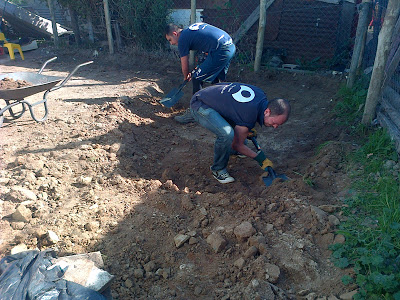 The idea of laying artificial turf at Grade R was inspired by one of our volunteers who went home after volunteering and raised money towards the project. She had seen the play area at Grade R turn from a dusty hard area to a muddy puddle depending on the weather.

 

The idea of the children having a grass area to play on was an appealing project.
We had two construction volunteers Jemmel
and Sebastien here at the same time, so what
better project than to lay the turf.

 

It was quite a
job and they were eagerly helped by our Transport
Manager, Moses.

 

The area was about 30 square
metres. The volunteers dug this whole area down 10cm ready for a 
Unfortunately we then had a week of rain.

 

Not to be discouraged, the volunteers spent the rainy days doing some indoor jobs such as helping to build a partition in our classroom at the Nursery. 
Meanwhile, Grade R was just a very muddy, wet, work site and we all kept a careful eye on the weather forecasts. We were so pleased when the sun came out!

 

Sand, crusher dust, bricks, they were all laid and
compacted ready for the final day when it
was all hands on deck to get the grass down.

  Andy came over from the orphanage to lend a hand and the rest of the volunteers helped out where they could. Including stomping down the newly glued turf.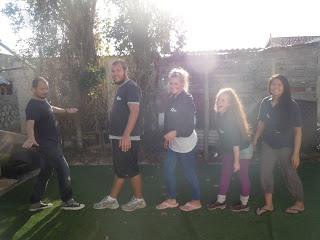 Grace, the Grade R teacher, and the children were absolutely delighted with the final result.

 

There is now an area where the can children to read, play, have circle games and exercise. It makes the area colourful and bright as well as much safer to play. Importantly, it helps the children take pride in their school.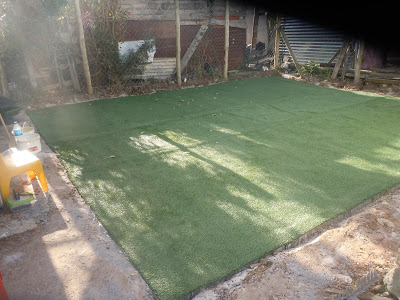 We look forward to seeing Grace, the children and our future volunteers enjoying the grassed area.
Cheryl Martin