Conservation project 1st week!- Baan Nam Khem, Thailand
Hi I'm Jackie, (one of 3 Jackie/Jack/Jax this month), and one of 5 volunteers who arrived in Phuket to be driven to Baan Nam Khem, a small fishing village just north west of Takau Pa in the Phang Nga region of Southern Thailand, last weekend.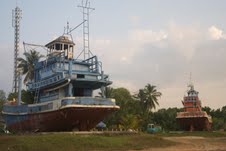 We are the first GVI volunteers for this area and are working on a number of programs including TEFL for adults, teaching children English, Health and Community Conservation. The health and conservation positions are still being fleshed out as we make more contacts and discover needs in the area.  The village we are living in has a Dec. 26th, 2004 Tsunami memorial and lost 3500 of it's 5000 citizens on that devastating day.  The town is being rebuilt and the people are wonderful, full of smiles and surprises such as our monk parade Friday morning and incredible, creative cooking with wonderful Thai dishes (we haven't ate the same dish twice in a week)!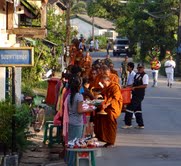 I am here for 4 weeks and working with Jax to create conservation connections for community members from Phuket up to Khao Lak.  We have met with local organisations working on initiatives such as See and Sea/Off the Hook (
seeandsea.org/shark-campaigns/
), the director of Khao Lak Lam Ru National Park, our interpreter Net and ex-pats who are working hard to create social/educational support for children and families.  I am very excited for the coming week as I will be meeting with sea turtle conservationists in Phuket, possibly delivering posters to restaurants for an anti-shark fin soup campaign and delivering classes on responsible tourism and English classes for park employees.    
We're off to Phuket this weekend for a little R'nR' and snorkelling. 
'till next week,