Conservation intern Bron finds her sea legs as marine field staff
By Bronwyn Kershaw – Conservation Intern and Marine Field Staff
5 years ago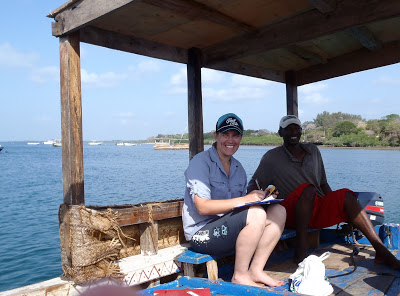 It's Monday in the second week of my work placement as staff member and so far everything has been an awesome whirl wind of learning, teaching, reading and training. It so far has been a great experience to see things from the perspective of a staff member rather than a volunteer, and I am excited to be taking on more responsibilities and contributing further to the general undertaking of research surveys and base duties.
As part of the training, a couple of the other staff and I have been receiving crew training so we can assist on both the survey boat and smaller transport boat. This included learning how to pull up anchor and drop and tie off the anchor when we stop somewhere. Also, there has been some hilarious attempts at poling the boat (the act of using a long pole to push into the ocean floor to move the boat in areas where the water level is too low for the use of the engine), but due to some strong wind and tides we most of the time ended up going in the opposite direction of what we wanted, to the great amusement of everyone watching.
Although there has been a lot of information to take in, the knowledge that I get, to spend my day's snorkeling and watching dolphins play and care for their newborns is a great motivator. Even today we explored some areas of the marine reserve that isn't frequently studied for Humpback dolphins (unfortunately they choose to remain elusive on this occasion). Then we went and explored some of my favourite coral reef near an Island called Kisite where I spotted an octopus trying to pretend it was a piece of coral and eight blue spotted rays that were completely buried in the sand except for a tail and a pair of bulging eyes sticking out of the sand giving away their location. There was also an amazing array of other tropical fish, and having had a lecture on the fish found in the area; it was great to be able to identify each species as we swam over the colourful coral.
Bronwyn Kershaw – Conservation Intern and Marine Field Staff