Community Combo Program kicks off!
My name is Karoline, I'm 23 years old and I'm from Norway. I am here in South
Africa on a teaching internship with GVI, this is my sixth month and sadly, it's also the last.
I've been working at ACJ Pakade Primary School, in the township Nomzamo for five months, with GVI Cape Town. I absolutely loved it, an amazing experience. I wasn't only in this beautiful country, I was surrounded with the sweetest students. The volunteers and staff I lived with made the experience even better!
At ACJ I had one- to- one sessions with four different students, I had these students every day and we worked on their English skills. We also had alphabet groups with 3-graders, reading focus with 6-graders and after school workshop with the students that wanted to learn more.
At the end of my fifth month I got asked if I wanted to join GVI Karongwe, to assist with wildlife conservation and education project in local schools. The change was tempting and I said 'Yes' on the spot!
 I've been here two weeks now and it's incredible, the change was good! So now I'm here, in Karongwe!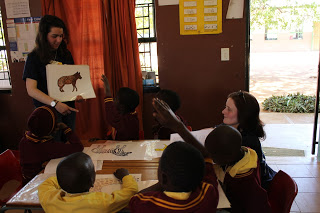 I am working together with another volunteer, called Kath, and every Monday and Tuesday we help our partner organisation; Daktari. Daktari runs a wildlife orphanage and a bush school, the mission is to educate and inspire underprivileged children to care for their environment, using this wildlife orphanage.
Daktari also runs Eco-clubs and that is where Kath and I come in. We work in to different communities with after-school programs; Metz village and The Oaks. Almost all of the students attending these clubs have been at Daktari bush school first and they want to learn more about wildlife conservation and environment. We also talk about more serious topics like poaching and animal trading Next up we have a session about HIV/Aids.
We also have GVI Community Day on Wednesdays, we have 12 students at the time and we have the same group for three weeks. The first two weeks we teach at Diputhi Primary School and the third week the students visit us at Karongwe were they get to go on a safari. Last week we made nametags, played animal games and had an animal word search. The volunteers enjoyed it and so did the students!
When were not working in the different communities we're helping out with the wildlife research, something that means that we get to see the animals we have on the reserve, and that is definitely something we can't complain about!
— Karoline Risen, Community Combo Program Coordinator