Comparing life out here to back in the UK is totally impossible. When you first arrive its like you're in an alien world 
where people communicate as though they have a severe neck problem, are intent on using their car horn whatever the situation and feel the incessant need to repeat themselves. Ok ok.
I started out here in the beginning of June to start on the sports project. I was a complete novice at the whole volunteering/teaching thing and it was safe to say I was feeling a little out of my depth… But that changed as soon as I set foot in the GVI house. It was like being adopted into a completely new family with its own special quirks and inside jokes that made you feel immediately welcome. The introduction to the program over the first few days turns any nerves into a simmering excitement to get involved and start work with the kids.
The first trip to school is really something! For those new to the idea of Tuk-Tuks and Indian traffic it gives a nice introduction and the skill of Jutten the driver will show you its all really just organised chaos… The school itself is completely wonderful with all of the kids greeting you with a beaming grin and a "Good morning Sir." A quick tour familiarises you with the school then its on to meeting the kids!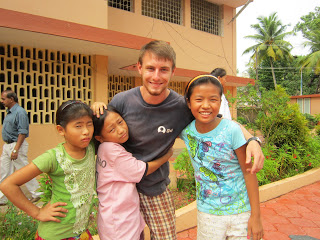 Getting stuck in with the Manipur kids was one of the happiest moments of my life, hands down. I've never met young kids so cheerful, welcoming and downright cheeky! We started our first sports lesson in the blazing sunshine at 9 in the morning, by 5 past I'd already fallen over much to the delight of everyone (volunteers included!). As soon as the warm-up was over and "coach" had recovered from his fall the football began. I found it difficult to believe what I was seeing, the skills exhibited were second only to the enthusiasm everyone was showing. Back home you would have to offer cash rewards to get the whole class involved, whereas here the girls were jumping at every possible opportunity to get stuck in and show up the boys! – It was glorious, the passion for sport and the simple fun of it all was exhilarating. From that moment on there was no doubt I had come to the right place!
My days thereafter consisted of an early lesson with the Manipur kids and then onto a regular schedule with the various classes of Auxilium school. With the help of "Coach" the permanent PT teacher and best man in the universe we led a variety of classes throughout the day. I should explain, coach is fantastic not only for the simply ASTONISHING amount of ear hair he has going on (soon to connect with the moustache I'm certain) but also for his way with the kids and the volunteers. A simply fantastic gent with endless stories about his time as coach of the Oman football team and years in the Navy. Not to mention the man has met the pope… twice!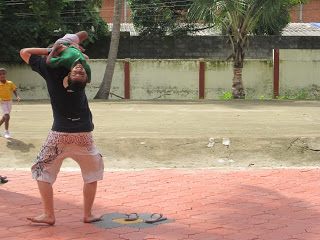 A personal highlight of each day was the classes with the upper kindergarten or UKG. They were a "lively" bunch and truly hilarious! Sometimes when their teachers were having particular success we could organise them into teams for relay races. That is an image that will stay with me till the day I die. Tejas and his galloping attempt at one legged hopping, Sean and his all or nothing approach to bunny-hopping (often ending in near disaster) and Anita's wicked grin as she simply went her own way with the entyre exercise. It really was a sight to behold. On other days when the desire to play was too overwhelming, we acted more as mobile climbing frames and entertainment. The ability of groups of UKG to seemingly organise at a minutes notice swarming and overpowering even the biggest volunteer, bringing them crashing down in fits of ecstatic giggles got them branded "the ant kids" by some…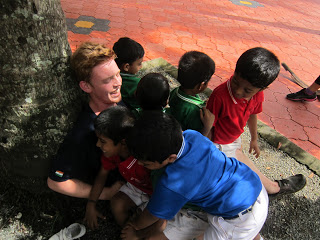 Sports tuition was another important part of the project. Every morning I was met at the gate by the ever eager Shijon and friends who were itching to get started. We covered a range of topics and sports throughout my time there. From dismissing the idea that a "Sharja Shake" consisting of ice-cream, syrup, cherries and cashew nuts was a "health food". To working on a zonal defence in basketball. It was a pleasure to teach and then watch as tactics you'd worked on that morning were secretly deployed on the court at lunchtime.However don't be under the impression that its all work and no play. More often than not you find yourself right in the middle of it to even the teams, or providing an extra fielder in a highly competitive game of football-cricket!The fun isn't limited to within school hours either. As party of team GVI you become one big family from day one. You eat together, drink s**t tea together and generally piss about together. At the weekends you get the chance to explore outside Fort Kochi and experience more of the magic of Kerala. Munnar, Varkala and the back waters were just a fraction of what we saw and each provided endless laughs and experiences I would doubt many will forget. My personal favourite was our team outing to go snorkeling and kayaking in a quarry not far from Ernakulam. We spent the day swimming around in the dazzling sunshine with no-one else in sight. The scuba-cochin guys were brilliant and made sure no-one drowned. Like the old saying goes "Its all fun and games until somebody loses a fin…"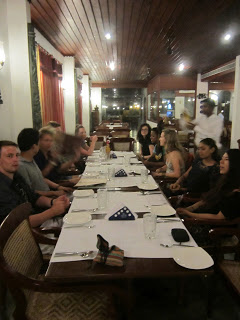 With Laurel "One Fin" Hadleigh swimming around in circles getting desperately lost and Georgie "Two Dinner" Skues semi-drowning with laughter the entyre spectacle was highly amusing to watch! With everyone safely back on shore, we wrapped the whole day off with a couple of casual kayak races and and a BBQ. Pretty ideal if you ask me.All in all, this has been the best way imaginable to spend my time in India. I've met some of the kindest and well meaning people teachers, tuk-tuk drivers and volunteers alike and I really can't imagine going back to the UK. The entyre thing has been so well run, managed and generally flawless (other than a little scooter mishap) it almost beggars belief. If anyone reading this is considering some time out here do it, JUST DO IT. Its for the kids! And also from a selfish perspective its for you too. There is no better way to spend some time away!!

Ten Slice Out X
Subscribe to our Blog
GVI on Instagram
Sorry:

- Instagram feed not found.
GVI on Facebook