Chitwan with Volunteers Lovisa, May & Alison!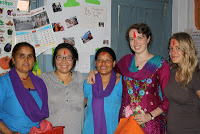 May, Alison and Lovisa with project staff Bagwati and Kabita
This is Lovisa, May and Alison. Last weekend we went to Chitwan National Park. For those who don't know of it, it's

 

basically is a national park situated in the south of Nepal and has everything from ants to tigers.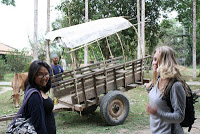 After a bumpy ride we arrived in Chitwan. We unpacked at our hotel "Royal Park" and took our first hot shower in a month! (It was lovely for those of you who are wondering). After that, it was time for our ox carriage ride around the Tharu village. The Tharu people are an ethnic group indigenous to the Terai, the southern fotthills of the Himalayas in Nepal and India. Not only did we get to see the village but we also visited the Tharu museum.
In the evening we had traditional stick dances performed for us. A whirl and clack of about

 

15 guys all dressed in white. The rhythm was infectious. It's hard to imagine how they didn't hit their hands! There was even a dance with fire! The last dance we were dragged up to join in, and when could we ever say no to that!
The day after, it was time to explore the national park itself. First was cannoeing down the river surrounding the park. Even though the rain was pouring, our mood was at the top. It was  still  beautiful. Our guide directed the canoe to the bank and sneaks us onto the shore so that we can stand up close with a wild rhino. We almost missed the rhino looking into the distance and not expecting to see him right there in front of us.
Then our program diverged. Alison & May went on an elephant ride and Lovisa (having done it before) did a jungle jeep ride instead.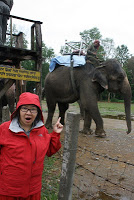 We don't really know what we were expecting with the elephant ride but four people siting on what looked like an upturned table on an elephant's back wasn't quite it. Elephant travel however is surprisingly relaxing. Each step is measured and contained with the certainty that nothing will stop this elephant if it wants to go forward. We had a bit of a maverick refusing to follow the group of 3 other elephants and always forging his own path. The jungle in chitwan is beautiful and because of our keen eyed guide we saw plenty of animals; deer, warthogs, birds and of course Rhinos! Having seen one earlier today it felt much saver to be much closer on the back of the elephant! We would certainly recommend elephant as a mode of transportation from now on!
Since I, Lovisa have done elephant riding before I decided to do the jungle jeep ride instead. I teamed up with four other tourists and went straight into the jungle with our guide and the jeep. The ride itself was such an amazing experience; we saw all the different terrains of the park. But what made it all even better was of course the animals! We saw so many of them! Warthogs, crocodiles, monkeys, peacocks, deer, wild chicken and many many more. However the animal that I'm really excited I got to see was wild rhinos! And not only did I get to see one but four wild rhinos! One was literally 2m away from the jeep. At first we didn't even notice it We had stopped to take pictures of a beautiful peacock posing for us on a tree branch when suddenly the guide yelled "RHINO! RHINO!" We turned around in shock and there it stood eating grass by the jeep. The jeep ride also included a visit to the crocodile reservation center were they hatch the crocodiles and release them back into the park as they get older. The whole ride was such a great experience!
Chitwan was an amazing experience crammed into just a few days!