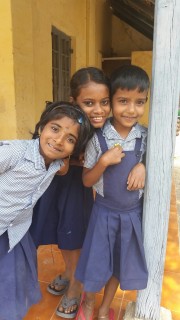 As you wander through the streets of Cochin in India, there is an abundance of overwhelming sights, sounds and smells… horns loudly protesting at pedestrians strolling across the roads, shopkeepers claiming the best price in town, and hordes of goats feasting on edibles of all descriptions. All very strange to a 22 year old Australian girl, but the habitual normalcy with which it is carried out transforms this backdrop from strange to an ordinary part of every day. This is the scenery for the journey to Thamaraparambu School.
Upon walking through the school gates and meeting the children, there is an energy like nothing I have felt before. The children shoot you timid smiles, and after returning the gesture, run to say hello and ask for your name, followed by the exclamation… "Park!?" The children have a small playground within the school grounds where they spend a majority of their play time, and they are full of joy when they are swinging to excessive heights on the swings. Then, the barely audible bell rings, and class begins… teaching these children English is a pleasure. They are in consistently high spirits and give no less than 100% every lesson, and with the exception of their mild addiction to stickers, they are always polite and full of positive energy. Meeting them is an experience I will never forget.
Subscribe to our Blog
GVI on Instagram
Sorry:

- Instagram feed not found.
GVI on Facebook