By Euan Johnston
3 years ago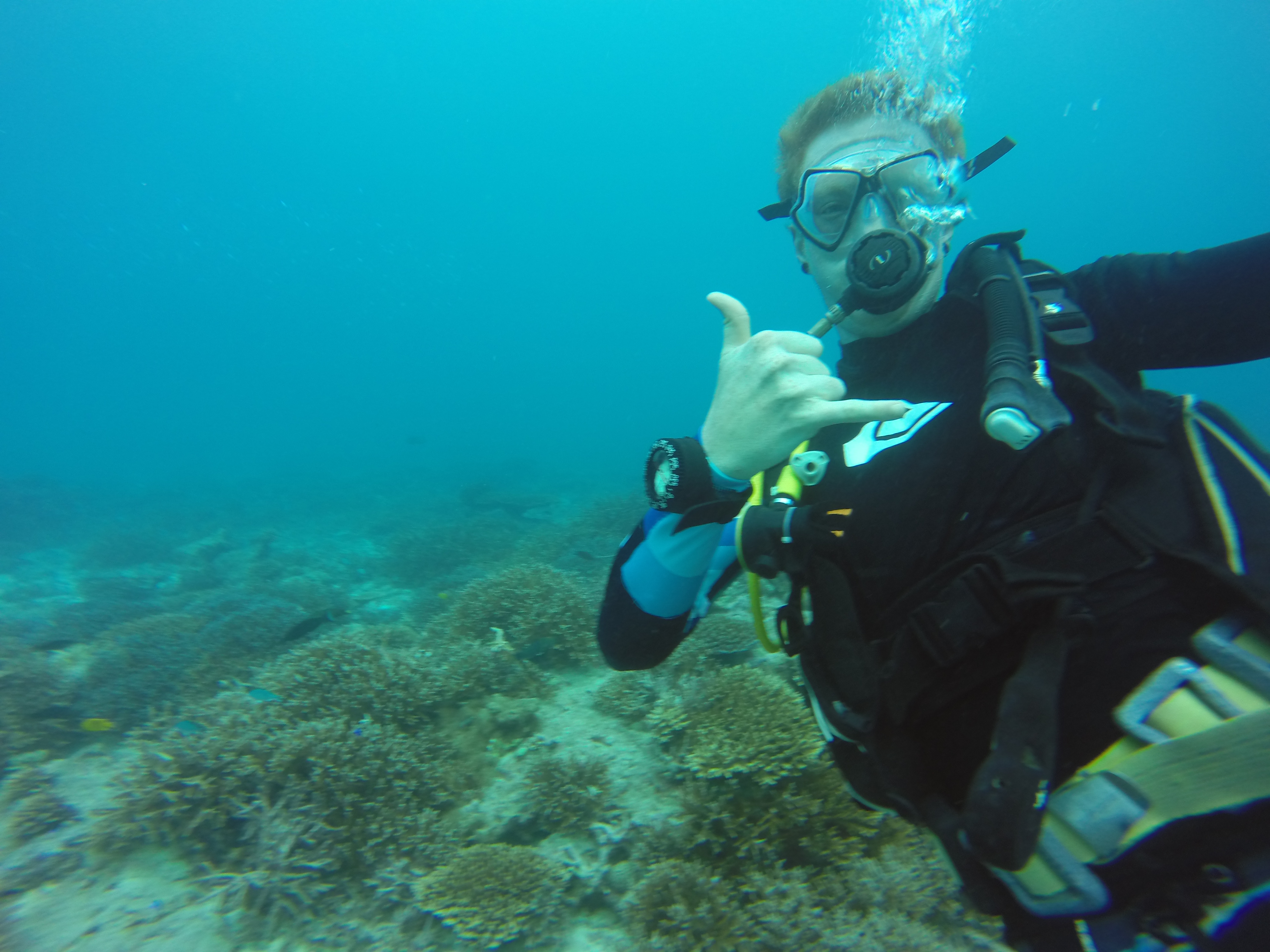 Upon arrival in a warm, tropical and dream destination on Mahe, Seychelles, I had been standing at the baggage lounge awaiting my baggage but after some time, the hustle and bustle and chatter of other holiday goers and locals dissipated with their baggage I was left staring at a lone bag going round and round the conveyer belt which was not mine- my luggage hasn't arrived!  Panic set in as I was wearing long dark coloured trackies and a hoody, I was melting!  I spoke to the friendly lady at the baggage reclaim desk, filled in a fourm and was told to wait patiently for it to get delivered in the next day or two.  What a start to a new path in life!
The course wasn't due to start until the next day which wasn't a big deal, time to relax (slightly) and find better suited clothes for this duration. After getting a taxi with all but my back pack, the polite taxi driver called Fred offered to stop and wait at a clothes shop for me to accommodate my needs for shorts and a fresh t-shirt in this glorious climate. Now I was set and ready to head to Beau Vallon where I was staying that night. When the taxi pulled up at the Beau Vallon Bungalows I was greeted by a few of the others, a Canadian bloke, Danish girl and two English girls, we hit it off straight away and they gave me a tour of that part of the Island, the beach was something out of a holiday brochure, the meals at the Ships Inn restaurant were almost gourmet, and the local beer was going down too good!  I was getting more settled by the minute!  The next day came and to my saving grace my bags came first thing in the morning when I was having my breakfast in the Bungalows! Score!
It rained all that night and morning which was almost homely yet the temperature was nothing that I was used to in bonny Scotland.  Waiting with everyone at the Pirates Arms pub round the corner we were met by the other volunteers and greeting them in the pissing rain.  We were greeted by Emma and the boss man Chris who were pleasant and enthusiastic for everyone to be here.  The bus was packed like a giant game of tetris so we could all fit inside.  Once packed we were off to my new home for the next three months.  As the bus drove at the speed of light through towns, hills, hair-pin bends and very, very narrow roads we all have arrived at Cap Ternay Marine Park.  It wasn't a 3,4 or 5 star resort but it was homely enough and all the staff were super friendly and mingled with everyone.  After dumping our bags we got the grand tour of the facilities, the kitchen was that out of a school dinner hall, the dorms were basic but comfy, and the toilets could handle flushing paper too! The dive kit room was brimming with gear and the laundry room consisted of two buckets and a hose.  Basic would be the apt word for it!
Now that we all have gotten to know one another and settled into the routines and duties its all getting a lot easier- except from the classes that we undergo!  Some are intense, but its all one big learning curve that gets easier through time and talking to everyone about any problems or queries makes it easier for me.
Now we dive!
The water is like bath temperature, crystal clear, and full of marine life, the sandy shores glisten white in the sunlight with palm trees and other jungle foliage that reminds me of Jurassic Park- stunning!
We do our 5-point decent into this gorgeous water daily and never fails to impress me with all the colours of the rainbow between the huge variety of fish and corals and mammals.  This is the definition of awesome life for sure!
I had my best dive ever on 9/9/14 when I was doing a fish spot with Erin the Aussie, led by Danny.  It was just off Lighthouse dive site which was a new dive site for me.  As it was just around the corner of BTC you could feel the swells of the sea push against you hard in what seemed like all directions  and it was exhausting, but all would be forgiven when I saw a female Hawksbill turtle swimming up to the surface for a breath and coming back down to swim around a rock.  These sights are amazing as I could tell by watching my air levels plummet through excitement, almost girlish squeals through my regulator, and frantic pointing but Danny signaled to stay calm and collected and to swim slowly to follow her, so we did.  As the time seemed to pass so quickly we were nearing the end of our 45 mins, hawk-eye Danny spots a shoal of tiny Glass Fish which is a good indicator that there is a big fish near by and boy was he right, chilling under a rock there was my first shark!  Albeit it was a White Tip about 1.3m in length it was stunning and awesome sight that I will never forget but that wasn't the end of the excitement, floating upside down admiring the light and dark grey beauty hawk-eye Danny worked his magic and spotted a ray!  This was nearly all too much for me I thought constantly checking my air and trying to remain as calm as possible to prolong it as long as I could with the time we had left, it was just resting not three meters away from where the White Tip was half covered in the sand.  It seemed to spot us and with a blink of an eye the ray fluttered its wings like a bird effortlessly was off like a shot around the rock which we soon followed and found under another rock, we were all giving the "awesome" signals under the water or as I did, wrote on my dive slate "best dive ever!" but couldn't believe that I never took my GoPro camera (which I now think if you take it, you wont see anything amazing) but that dive will be and is my best dive I have experienced.
Got to love the Seychelles and the marine life!!!