Ascending Mount Curieuse on a jolly Wednesday morning!
By Inken Thompson
2 years ago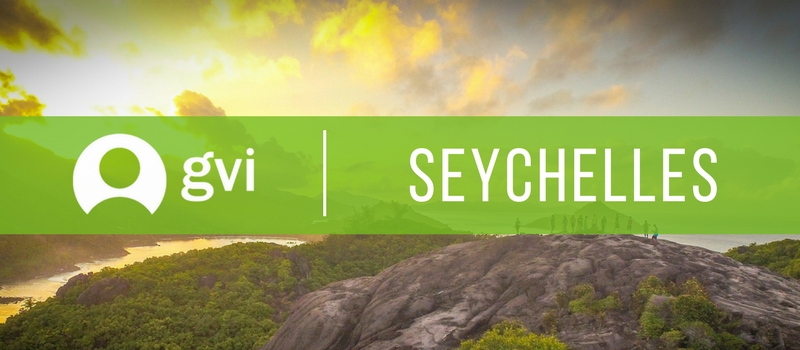 Here on Curieuse we are fortunate enough to be surrounded by the beauty of nature all day every day. Due to the nature of our work here on Curieuse, we have to trek to various parts of the island in order to partake in our surveys. Some of our treks are on well-grooved footpaths however, many others are more so off the beaten track and as GVI Volunteers, we get to go places where no tourists can! Mount Curieuse is definitely one off limits to tourist and certainly off the beaten track so we decided to accept the challenge of climbing it!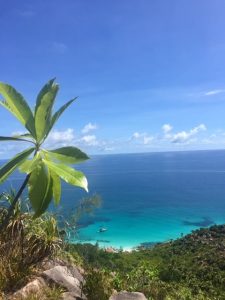 Setting off at 8am after our lovingly prepared breakfast by our two duties people, we began our journey on full bellies and upbeat tones. At first, we take the path that we do on a daily basis when we are en route to surveys. After two months of the same trail, we are all at a fitness level where we could potentially take flight if we went any faster that we did today! Reaching the end of the first boardwalk at the turtle pond in record time, we headed off the path and up towards one of our survey beaches, Anse Badamier. However, upon reaching the top of the hill to Badamier, we veered to the left of the usual path and began our mountain ascent through bushes and rocks. The walk, or more so rock climb/scramble, needs to be done with precision and attention to avoid any potential injuries due to unsteady rocks. Such a task can be tricky for some more than others, but never the less an adrenaline rush for all. The climb up the mountain was incredibly fast. Here on Curieuse you'll find that you can ascend high hills a lot faster than first thought and before you know it you are at the top of the mountain and greeted with incredibly beautiful views of the whole island.

As a group, we reached the peak of the mountain at 9.30am. As you stand and take in your surroundings, in one sweeping glance you can see a minimum of 8 other Seychellois islands. The whole of Praslin, Mahe, Arid, Boobie, Bird island, La Digue, le Soeurs and Cousin Island, which are clearly visible. It's really is something incredibly special to see.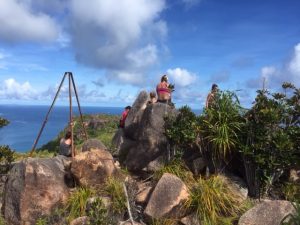 We relaxed up at the top for well over an hour before choosing to trek down carefully and head back to base. It was a rewarding experience but goes without saying that we were definitely ready to jump in the sea when we got back and so as a mini treat, that's exactly what we did!