Animal encounters in Jalova
By Mariel Victoria
4 years ago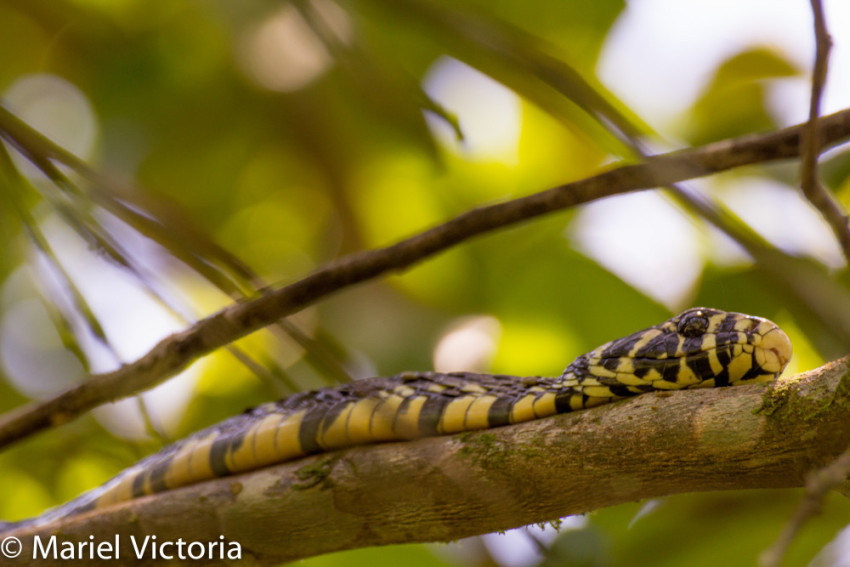 News from Jalova! This week we hosted a not-so-friendly and uninvited visitor: the Tiger Rat Snake. This sometimes aggressive fellow can be identified by its yellow stripe.
Our staff members bravely escorted him out of base with a reminder that visits are by invitation only. Following this unexpected guest was a Wandering Spider, who was found munching in the kitchen. It left without a goodbye or forwarding address.
Hannah's usual hospitable nature was put to the test when two (oh yes two) scorpions were sunbathing on her towel. They moved along when asked politely.
On survey we ran into more friendly animals. The bird boat researchers got quite a special survey when they saw a Sungrebe and a Boat Billed Heron. They also built up a few more arm muscles as they paddled and paddled and paddled.
Those who ventured through the weekly Jag Walk stumbled upon two turtle kills! The Jaguars had quite a Green and Hawksbill feast around mile 14 and 10. No worries though – there are fresh hatchling tracks near base. Hoorah.
Tonight our team plans to relax and enjoy fresh watermelon during movie night. Next week more birds, turtles and jaguars beckon. Look forward to another jungle update next week!