An aptly named 'Wonderla'.
Tuesday 2nd October saw the nationwide celebration of Gandhi's birthday; and what better way to celebrate the birth of the icon at the forefront of India's independence movement, than flocking together as a family of volunteers ( Katie, Kathy, Billy, and Jim; Jim being myself) to the adventure land and water amusement park – 'Wonderla'? Along with Bella, a good friend of Billy's, we volunteers headed off in a taxi – the driver of which Katie and Kathy had previous – to thrilling adventure.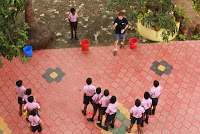 Our celebrity status as not-ethnically-Indian proved famous again, the staring and nervous greetings we, as volunteers, are used to regardless increase tenfold. Nowhere else did this prove truer than in the cauldron of energetic expression of the 'Indian rain disco'.
Being the only non-Indian (minus Billy), in a floor of hysterically enthusiastic dancing Indian men; the men and women being kept separate, an unfortunate status quo; should've been intimidating. If not for the kin-spirit of all present: hands and arms linked, jumping together, shouting, and a brief period for yours truly on top of shoulders. Truly an experience.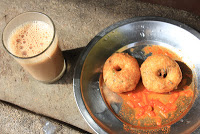 Besides the rain disco, perhaps I am not the best suited to rave about the bigger and faster drops and roller coasters, having decided that terrifying speeds and a general feeling of nausea didn't really appeal to me and so instead sitting out the more daring coasters. Rest assured however, the others seemed satisfied enough with the thrills 'Wonderla' had to offer;

 

however they all seemed less than pleased with the general experience of one particular 'Twin Flip Monster' – a horrific mesh of g-force, nauseating flips, and time spent being thrust upside down.
However, all in all 'Wonderla' offered me and others a welcome break from teaching, and a chance to have fun together as friends.
Happy Birthday Gandhi indeed.
Subscribe to our Blog
GVI on Instagram
Sorry:

- Instagram feed not found.
GVI on Facebook