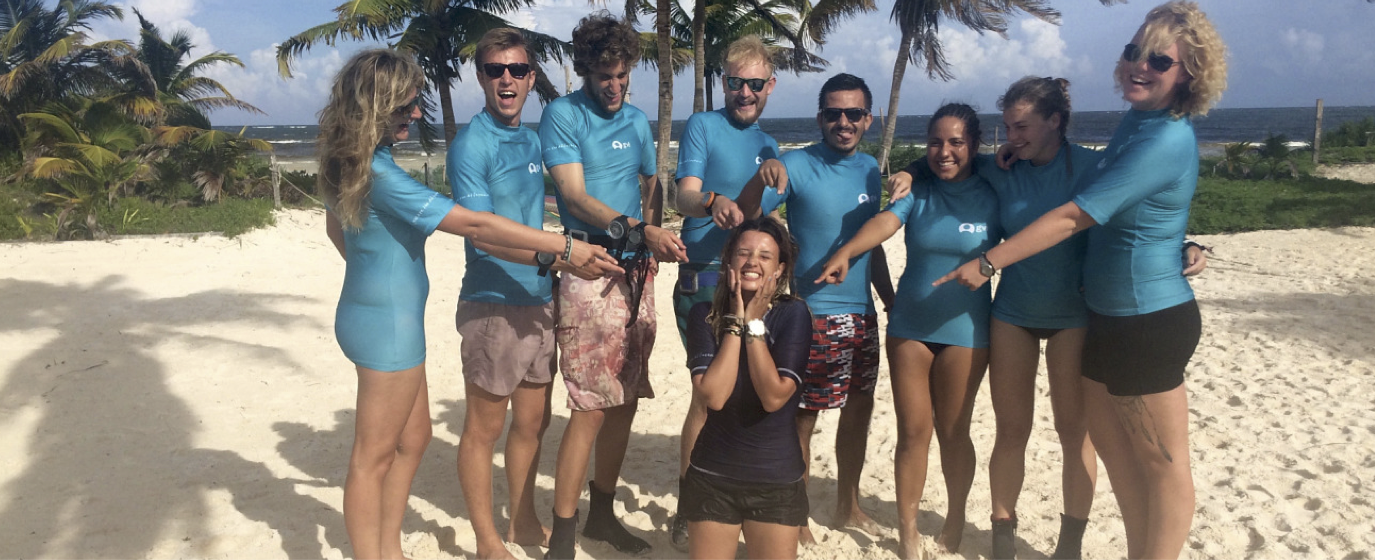 The belated blog
I may be on my ADO to Cancun airport but this is my last ditch post of appreciation for the Pez Maya group and the overwhelmingly beautiful experience I've had.
Coming in as a newbie one month ago, we were welcomed in with open arms by the staff and long term vollies. The staff not only had an answer to any questions we had for the duration of our stay, but they made me laugh, admire and persist on achieving the absolute most out of every second on base. Even when it rained, and oh and boy did it rain.
Our first week was filled with soggy shoes, robot wars (google it) showering in the rain, learning all that there was to know about advanced open water, my assigned organisms juvenile fish, and their home which I was lucky enough to be dipping my toes into for the next month. Passing my juvie exam lead me a step closer to monitoring and as soon as the seas calmed I was over the moon to have my first day in the water starting my advanced open water course. Sinking horizontal into the water column, there's nothing like it, everything slows down and its just you, your breath and the shear exhilaration which is diving. The 40 minutes of diving each day on one or two waves wiped any qualms of the plan b days on land and left me so content religiously walking with a cheesy grin back from the boats to base daily.
Every night we would share dinner together like the family we were and again laugh, play cards, share our experiences on the dives or unravel more of our stories to each other.  Every now and then I would sit back, just to appreciate how lucky I was to be surrounded by such likeminded people, not even fifty meters from the beach on the other side of the world from home but so ridiculously happy.
A cenote, a birthday, bumpy collectivos, stunning sunrises and sunsets, boat puuuush, amenecer, a few nights in Tulum, a club sandwich  and a million tacos in playa.  Some impromptu head torch strobe lights, regaton, passing all my spots and practice monitors, Clive and Cleatus the crocs, Kri's crocs, a black durgon, oreos, day of the dead, matching anklets, and almost extending my stay for another month.  Here I am, having just said goodbye to my Pez family, I feel like my ears aren't working, like I should be hearing Peter, Lynn, Kri, Suzie and Olli saying "theres no lurv like naufrago lurv" or Pheobe and Jake teaching me about pokemon or Hector getting tickled while Fer says zaaackooo or Zack saying anything so that I can laugh at his accent while he laughs at mine or,  the whole crew singing 'esto no me gusta' in communal. Regardless of how much I'll miss them every time I look up and dabble in being a milkyway stars nerd, I can guarantee I'll be imagining us all cramped in the window seat or hammocks laughing, just from a slightly different angle.
Cheerz from staya,
I've officially been Pez Maya'd