A tour of the Cape Town projects
Every second week we have some new arrivals on our projects. Monday morning consists of a training session, a Xhosa lesson and a tour of our Project Sites.
As we head into the township our volunteers range from having a flood of questions to silently observing the hustle and bustle of the township.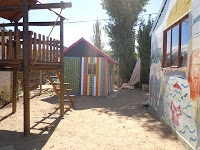 Our first stop is Grade R.

 

The children always enthusiastically welcome our volunteers, as does Grace the Grade R teacher.

 

The children usually greet the volunteers with a song. Our new volunteers can

 

see the great work displays by the children in the classroom as well as our recent painting work on the buildings which has certainly brightened up the area.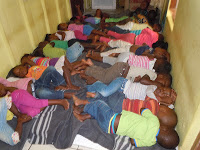 Next we go to the Nursery. This week on our visit, children had
just finished their lunch and were lying down for their nap,
the volunteers could peer through the window to see the line
of children lying down for their afternoon nap. We'll pay another
visit later in the week when the children are up and about,
jumping around in their usual manner. It's quite a different
place then!
After the Nursery we visit ACJ school across the road.

 

As we walk
through the school grounds the children and teachers give their
usual welcoming greetings.

 

It is a bit overwhelming at the moment
because the school is being rebuilt.  The area is smaller than usual
and there's lots of construction happening.

  O
ur GVI
classroom is always busy with children and volunteers and our new
volunteers see the productive working environment that we
have developed there.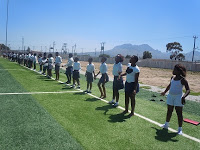 We then hop back on the bus and head to the 
orphanage. A
s we
drive down the road we see the newly turfed field and
our existing
volunteers running their sports lessons with the
students. The
field is an amazing asset to the Nomzamo
community and especially
to ACJ school.
We soon enter the community of Zola and arrive at
Ikhayalethemba
orphanage.

 

It's a chance for me to tell
the story of the
orphanage
from the days when Mama
Lumka was "the wheelbarrow lady" collecting children
and taking them into her home to care for to today where
Ikhayalethemba Village is a home to children for long and
short term care. The volunteers enjoy meeting the children a
nd often Mama is there to offer a warm welcome.
Our tour is an important part of our orientation and a great insight into all of our projects befor our new volunteers move to the project they will be working on.