A New Charity Challenge - The Amazing Race, Mariepskop Edition!
Only a week is left to go before the Amazing Race: Mariepskop Edition here at Karongwe Private Game Reserve. For those who don't know, the team at GVI will be broken up into three different groups and will compete in a series of challenges that will test both their mental and physical capabilities!  Travelling on foot, vehicle and other, unorthodox means of transportation each group will be asked to perform to the best abilities to be #1! Though some people might find this daunting the volunteers and staff at GVI are geared up and ready to go!  All male staff members who can grow facial hair for "Movember" have been rocking it in style in preparation for this event. Keep an eye on this blog for updates on their Mo's!
Who will win? Will it be Jamie Sangster and his group, using Jamie's intensive competitiveness and slightly-cheating cunningness? Will it be Andreas Fox with his all-wise and extensive knowledge? Or possibly Ben Tupper just based on the epic-ness of his mustache?  Who knows!  All that GVI is hoping is that the best team wins!
All proceeds will be donated to the Daktari Outreach project! You can donate to this fantastic cause via the GVI Char
itable Trust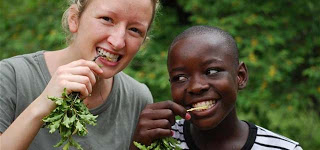 Once every four weeks we take our volunteers to visit Daktari Bush School and Wildlife Orphanage. Daktari are a non-profit company that we try to support as best we can, as the work that they do is imperative to the future of nature conservation in this country. Daktari take 8 underprivileged children from local schools on a weekly basis and are taught a variety of subjects. This gives the children the opportunity to discover, learn and become passionate about wildlife, conservation and their heritage. School curriculum subjects are also supplemented with lessons in; English, maths, sciences, geography, life skills and social issues. Environmental education is something barely taught to these young children as part of the Government curriculum, and yet they are the future for the preservation of this country's wildlife.
When the children leave Daktari, they return to their homes and schools with a much better understanding of the natural world and how we must protect it. Unfortunately however, this can be lost over time. With Daktari's new Outreach/EcoClub initiative, this may be set to change. The project aims to visit schools in the local townships on a weekly basis to further their environmental education and keep the conservation message alive.
Subscribe to our Blog
GVI on Instagram
Sorry:

- Instagram feed not found.
GVI on Facebook