30/05/13 A Day Out At The President's Village
Once every quarter the GVI Seychelles Cap Ternay expedition holds a 'Creole Day' at the President's Village Children's Home in Port Glaud. The President's Village is home to around sixty children of various ages, ranging from a few months up to 18 years. The staff at the home do an amazing job of looking after the kids so it is nice to be able to give them a break by playing some games with the children and helping them to use up some of their excess energy.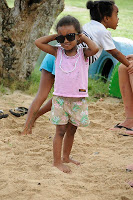 Last Sunday a group of thirty staff and volunteers organized numerous games and activities for all the amazing kids at the presidents village. For the artistic folk amongst us there was face painting, fingernail painting and mask making, as well as arts and crafts and friendship bracelets, which the kids loved. There was also an energetic game of football for the sports fanatics, however it was the younger kids who really showed us how it is done.
Everyone seemed to really enjoy themselves on the day, especially a group of kids who got hold of someone's camera. The kids love posing for the camera and trying it out for themselves. Some of the very cute younger kids decided to try their luck with some nail polish and almost everyone left with a lovely manicure by the end of the day. After all the games and art, the staff at the village made us a wonderfully yummy Creole meal. This was followed by a dip in the beautiful Indian Ocean as we all headed down to the beach for a swim. Creole day was an amazing and rewarding experience and I am extremely grateful that I had a part in this day.