3 Reasons why you should do your Dive Master at Pez Maya
By Sophie Reeb
2 years ago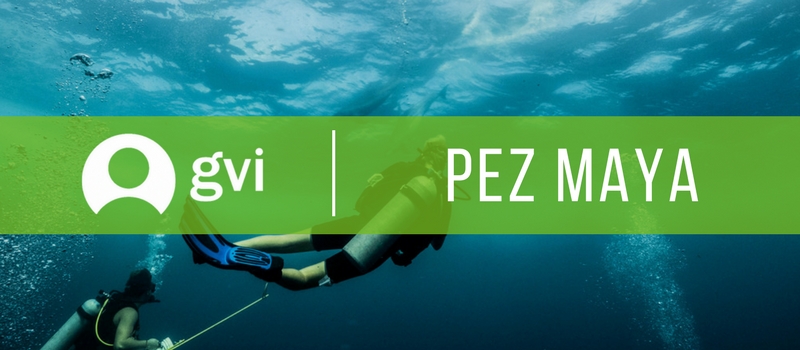 ''Divemaster'' sounds so much cooler than '' (Advanced) Open water scuba diver''
The first time I took a breath under water was an amazing experience. It was intense yet soothing, and from that moment on I knew that a profession in scuba diving was a path I wanted to follow. I completed my Open water course seven months ago, and from that moment onward I have loved the sport more and more with every single dive. Maybe not every dive because the pool sessions where freezing, even in a 3 mil wet suit, 23 degrees Celsius water temperature felt like 10. But after two full days in the pool we were done and looking forward for the ocean, which it was so much better. As soon as I saw all the corals and fish underwater, I realized that I wanted to be there every day. But already 2 days later I knew that I definitely wanted to go deeper than "only" 18 meters. So we started the Advanced Open water course, after that we could finally go down to 30 meters. Proud of being a scuba diver, I was telling some other divers in town how deep I already went and what skills I knew at that moment  At first they were like "hey really cool, that's a good start, etc.", but then they told me which level they were at with PADI… they were Dive masters! And suddenly I felt so small with my Advanced Open water certification… I mean Dive MASTER means you're the master of something, how cool is that?
Best place to combine business with science
When I came to Pez Maya I signed in for the short-term internship Project for three months. So actually, I wasn't even thinking about doing my Dive master here until the old base manager Jim, asked me about it. After some research and obviously because of the reasons I'm listing in this blog, I decided to do my Dive master and I knew there were two options: do I want to go to Xcalak to get certified in XTC (which seems to be a amazing dive shop) or do I want to stay in Pez Maya?
And I chose Pez Maya… of course. I mean XTC seemed to be really interesting, but I was never that much into business, making money by selling gear and promoting it and the dive shop. What I was and still am interested in, is science! Since I was 13, I was watching documentations about coral reefs, sharks and later more about marine conservation. I mean coral reefs present the biggest ecosystem of the world! Without them, we could not breath, our beaches wouldn't be safe from erosion and damaging storms and fish wouldn't be part of our food chain anymore. That's why we need to protect them and look after them. And that's exactly what we do in Pez Maya. We record the evolution of our reefs and send the information to Amigos de Sian Ka'an and other partners as Ocean Conservancy, Coral Watch, Project Aware among others.
So while you're learning about the reef, coral, fish and how to protect them, you can study your Dive master, go on dives with other volunteers, which improve your skills a lot! , teach them (giving fish or coral spots as soon as you get to monitoring, giving presentations about everything you are interested in), brief them and have more responsibilities… all characteristics you need as a Dive master…. And more!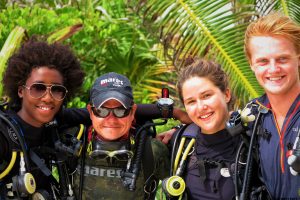 Credits: Lukasz Witkowski
Who doesn't want to study in paradise?
In case you haven't seen any photo of Pez Maya yet:
That's the view from our communal area. Isn't it amazing? Every morning you wake up to this sunrise and realize how beautiful it is. And this place is actually the best place to study! People take their books and documents down to the hammocks and enjoy the breeze while lying in the hammocks and learning more about the inside of a regulator in the Encyclopedia of Recreational Diving. What I used to do it was to take a chair and sit down at the beach without mosquitoes, a nice breeze and a quiet place to study. At the same time… who doesn't want to hang out at such an amazing beach?
In the end, all I can say it is: if you love science, nature and you are interested in marine conservation; want to meet new people and get to know the first professional level of PADI, then come to Pez Maya! It's definitely one of my favorite places in the world and I met amazing people here who became friends for life!
PS: check out the Facebook or Instagram page ->
www.instagram.com/gvitravel
Facebook: GVI Mexico Yucatan