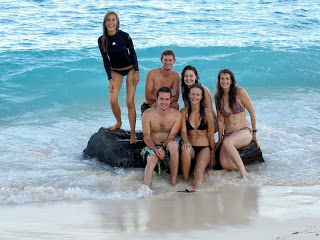 Here we are – at an island surrounded by the ocean. Life here is filled with a big variety of patterns, colours and shapes. There are mountains rising from edge to edge of the islands, with rocks formed by the ocean and with clouds gathering between the tops. In this paradise of vegetation you'll find anything from palm trees, climbing plants with purple flowers nestled in-between to trees growing high and old. Winds are moving through the leaves and waves are rolling in towards the coastline breaking at the shores. Singing birds and bats are flying between the tree tops and ghost crabs are digging their holes in the sand. Wherever you go, you can sense the humidity, the salt from the ocean and the growing flora. In clear nights, you can spot planets, the Milky Way and stars filling up the sky. This place on earth really grows on me with every moment being here – the more I look, the more I see!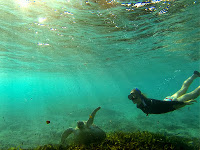 Thirty days has flown by since I arrived here as a volunteer at Cap Ternay base, as a part of the GVI Marine Conservation project in the Seychelles. Thirty days filled with so much new experiences, learning and awakenings: from meeting new inspiring people, learning about fish and corals, getting into camp duties to feeling more comfortable spending time in the water. It really has been a rich period. We have been playing at the beach with children from Presidents Village (the local children's home); building sand castles, chasing each other, snorkelling and just having lots of fun. We have been climbing up mountains – watching over the ocean and the islands nearby. We have met people living here and gained more depth to the culture and the islands surrounding us. Last week, some of us went to Bird Island on our weekend off, which is a island 60 miles away from Mahe. It felt like I was dreaming – with over a million birds on the island, giant tortoises up to 200 years old walking around the island, white beaches and only the blue ocean surrounding us. We went up when the full moon disappeared at the horizon and watched the sun go down in the evening as the moon headed up again at the other side of the island.
One of the things I really enjoy being here is listening to all the volunteers and staff members sharing their different stories, about what they have experienced and seen. These weeks I've heard people sharing their enthusiasm about everything from corals, dolphins, whale sharks, rays, turtles to lion fish. Like when some of the volunteers and staff spotted hump back whales at the surface – a meeting with a mom and a calf on their long journey through the oceans!
The experience underwater here has been something of its own. From watching a turtle swim slowly over the coral reef followed by angelfish, to swimming next to a squall of squids moving together in the clear water. On my last dive, I swam by two clownfish busy with bravely guarding their anemone home. I watched an octopus camouflage to its background whilst it was moving over the granitic rocks. I've seen fish, corals and life in every colour and form imaginable; from green, red, blue, pink, yellow to stripes, dots and different patterns. Yesterday, we saw rays moving gracefully through the water. The sun was breaking through the surface and next to the silhouettes of rays there were squalls of barracudas and different fish swimming above and beneath us. Just a moment before this, we saw a grey reef shark swimming by. This morning, I did my coral training just a few metres away from a marvel sting ray resting over the ocean floor.
It' just these moments when I feel so lucky to be here, to see the life which is here.
By combining these moments diving into the ocean with what we learn on land, we get the great experience of being able to recognise and identify what we see. Having lectures about the ocean, winds, currents, tides, ecosystems, plankton, sharks, turtles to about us being here and how all these aspects are connected, we get to see the value of the ocean and the unique life forms within. I love to look at all the relationships and symbioses- like how coral and algae together produces more than half of the oxygen we are breathing here on land. I love how this awareness completes and increases the quality of the dives I've been doing here, lifting the whole experience of diving.
Me, Lynne and Walter who arrived here at the end of August, have just signed off on our "Coral spots" and "Coral Methodology" where we practised to identify different species of corals and how to survey them. We are now moving on to do our surveys we will do for the rest of the time here.
With this, as the process are growing to new levels, the value and the effect of the surveys we do are starting to become clearer. I learn about monitoring the health of a reef. At our dives we are collecting what we can see – signs from the past to the present state. We are recording coral and fish diversity, changes and events. With this bigger picture, we produce something to work with, to look at from different directions, learn from and reflect about. We can see where we need to put in an effort, lift a question, how our acts have an impact and where there are opportunities to change. I'm also learning to see how my small choices and movements anywhere in life, at land or below, have a great impact of what we can see in the ocean. And how the ocean's health has a great impact of what we can see on land. We also get to pass forward what we learn here. This week some of us will have a lecture on the beach with 11-years old children from ISS, the International School in Seychelles, connecting the ocean with topics like continental plates, earthquakes etc.
We will meet up, listening to each other and sharing our knowledge through games, worksheets, conversations and games!
Last week we were saying good bye to old volunteers. Some are staying in the Seychelles for another three months doing their dive master and other are continuing their different paths in life – travelling, studying and working. Next to saying good bye to some really great people, this also meant new volunteers arriving here, being a piece of force to keep projects like these continuing and growing.
It's amazing to see how base is changing to a different place with all the new people arriving. It's contributing with new energy and perspectives to this place. I feel really grateful for being here and I'm looking forward to continue this journey. For me it's a combination of exploring, adventure, learning about life, about seeing life, gaining new knowledge and stories to carry on for the future.