23/04/2013 A Week in the Life of......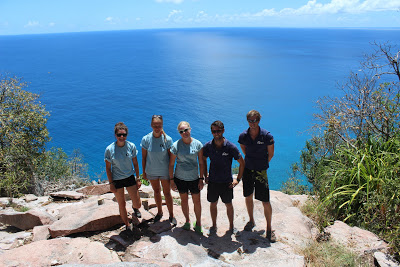 Everybody smiling? Everybody happy? Well, we certainly are. Last week on our wurtle we saved a hatchling which was caught with a root around his fin.

 

We named it Blim after the Ranger's dog that followed us all the way to the beach Grand Anse. Just a metre away from Blim's nest we found another nest with nine live hatchlings that we were able to save and help to the water. It was very stunning to see so many hatchlings walk down the beach at the same time and disappear into the big ocean. We wished them good luck and went back to the nest to start opening the really smelly remaining unsuccessful eggs. It was interesting to see all the different stages of development when we opened them.
The same week in the Mangroves the fab 4 (Sanna, Julia, Maria and Zach) broke a record out in field by checking salinity on fourteen groups of trees. It was muddy and sweaty but a lot of fun. The following Saturday, we got to experience a different kind of Mangrove related work. We met up with a local school group of 50 kids in the ages of six to twelve who came to the Ranger's station. We had the opportunity to teach them about the Mangroves by playing games and telling them stories about the trees and how they survive out in the field. It was great fun and a good experience to share our knowledge with the kids and it made us happy to see their smiling faces. We realised how much we have learnt from by here for just one month.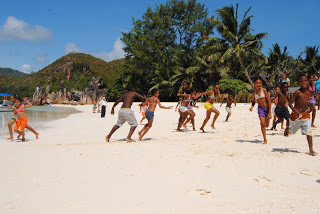 One night at dinner time, we got a really nice surprise when our base manager Reggie told us that he had organized a visit to the island Aride that has a lot of cool birds and great snorkelling waters. We went in two different groups and it was a fantastic island. The guide who took us around on our tour showed us a wonderful view point where we stood in front of an endless ocean looking up at all the Great Frigate birds in the sky. One of the groups was even lucky enough to see the rare red tailed tropic bird. On our way back to the boat, we stopped for a fun time at a Banyan tree with a Tarzan swing. I really wish we had one on Curieuse. Once back in the boat we had a fun snorkel in the incredibly clear water and saw a lot of beautiful fish, for example 7 parrotfish. The staff had more luck though, they saw a shark and 3 octopus… We were not jealous at all…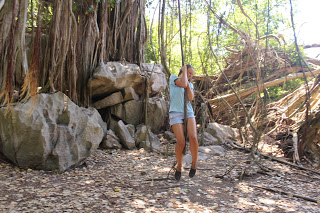 Back on camp, we have decided to build a bar. So this week after camp clean some of the volunteers started working on that project. They cleared an area beside our kitchen, raking leaves and weaving a roof out of palm leaves. We had a brain storm during dinner about a name for our new fancy bar and some really good names suggestions came up, but feel free to help us out. We are now looking forward to a new week of breaking records and new experiences.