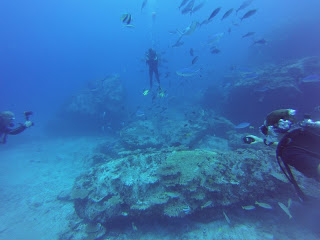 This week has got off to a successful start with all the new volunteers that are studying fish passing the test for the Group 1s and Chris (aka Kit) is getting on well learning all the different types of coral. Everyone has now also passed their PADI Advanced, have begun Emergency First Response training and are doing well with their fish spots. I am now almost ready to start surveying and I am very excited and raring to go. All of us new volunteers completed our first turtle behaviour dives with varied success. Some did not find any while Carl and I found 4 turtles – 3 hawksbill and 1 green – and a white tip reef shark!
This week has been 'Megafauna' week and has seen the camp watching presentations and programs on Manta rays, which everyone has found very interesting and enlightening – it has certainly peaked my interest. This evening Dr David Rowatt from the Marine Conservation society of Seychelles is coming to talk to us about Whale sharks which everyone is equally as excited for.
Everyone on camp has been making good use of and enjoying the much better weather we have been having compared to last week's daily heavy rain with many using their second day off to snorkel to Secret Beach and, unfortunately for some, returning with a painful sunburn and spent the next couple of days nursing sore backs and shoulders.
All the new volunteers have settled in well and everyone on camp is looking forward to our Reggae themed Thursday evening.
Hope you're all having good weather too,
Hannah