14/06/13 Let the Building Begin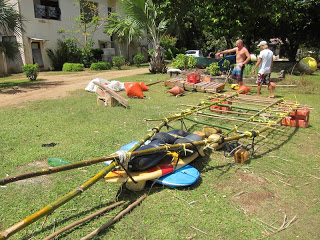 It's that time of year again here at Cap Ternay; we are gearing up for our next Chartable Trust Fund Raising Event! GVI does a fund raising event every three months; in February the volunteers did the Cap T Charity Challenge and raced all over the island completing a series of physical, mental and entertaining challenges.
This time, our Cap T staff, volunteers and some project partners are participating in the 2ndAnnual Raft Race for Rupees on Thursday, June 20th. Teams of 5-6 people will race homemade rafts through our very own Baie Ternay Marine Park. The teams were announced last week and have been spending most of their free time constructing homemade battleships for the big day. Each team is led by a staff member and has 4-5 volunteers. Team captains are staff members Lee B, Lee C, Carly, Sam and Jess. Lee B and Lee C participated in the 1st Annual Raft Race for Rupees last year and have big plans to build the best raft to make up for their losses last year, though based on their sea trials, they may need a little extra work.
Project partners MCSS and SNPA are also building rafts and joining us for the big race, can't wait to see what they come up with! However, this race isn't just about building the fastest raft that doesn't sink, teams will also have to build their team spirit in the form of team names, songs, flags and must put together a short video showcasing each and every member of the team. That isn't all though, the most important part of this event is the fund raising. Each team is required to fund raise for our Charitable Trust, The President's Village Children's Home, or they will have points deducted from their overall score! GVI works very closely with the President's Village Children's Home, spending time with the kids each week on snorkels, putting on special Creole Days once every three months and buying each of the kids presents for Christmas. There is nothing like seeing the smiles on the kids' faces when they are greeted by a group of volunteers ready to spend some quality time with them doing fun activities.
To support the President's Village and find out more information about the Raft Race, please visit our fund raising website at www.justgiving.com/teams/SeychellesRaftRaceEvery little bit helps! Below are the team assignments. Be sure to follow us on Twitter @GVISeychelles for live updates from the Raft Race next Thursday, June 20th!

Captain Lee B
MCSS – Academy By the Sea Team