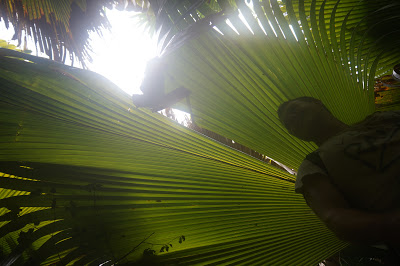 With the sun come new surveys!
After over a week of almost only rain we have now had sunshine the last few days. Because of that we have been able to surveys that we haven't done before because of the weather.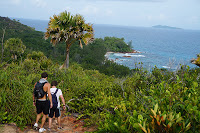 First of we had a Coco de mer survey where we counted and marked the Coco de mer trees on the island. Even though we had to climb steep and slippery hills and walk trough really dense vegetation we managed to count and mark 86 trees. Which is an impressive amount considering that we did it in 3,5 hours.
We have also had a few snurtles, which basically are surveys where you look for turtles when you are snorkelling. The first time Joel and Alex R saw a female hawksbill turtle while snorkelling at Mamas beach. The second time we went to the same place and Alex R and Sarah saw another female hawksbill which they thought was the same as the last one. Joel also managed to see one while snorkelling towards the base at the end of the survey.
Other than that we have also seen a few sharks, rays, stone fishes and tons of other incredible stuff the last few days.
–
Joel Andersson
Short and Exciting Week As Some Volunteers Finish Their Final Days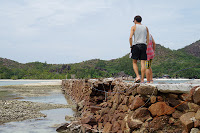 As two of the volunteers finish their four week stay, the days and sightings are nothing short of exciting. We spent our weekend once again enjoying the sights of Praslin, as well as exploring the turtle wall. There were a few sightings of juvenile black tip reef sharks, and a juvenile lemon shark; the turtle wall was full of other interesting fish that are nursing, as well as an eel. The volunteers enjoyed a day of volleyball on the new refurbished volleyball court. Volunteers and staff all worked together to get a generous amount of sand on the court for safe play on Friday after the solar panels had been mounted to the roof.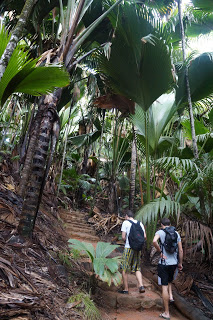 Monday was back to work, and everybody was eager to get back into the field. Joel, Pat, and Sarah went on a bird survey as well as shopped for groceries for the whole camp. Joel came back excited to announce he had spotted his first and long anticipated white-tailed tropicbird.

 

Volunteers and staff alike were ecstatic to see the delicious groceries and snacks that the three brought back as well. The Alex's, Noel, Rhiannon, and Zach went on an all day turtle survey, which had new and familiar sightings. There was yet another hawksbill nesting along with a nest and some tracks. All these sightings of nesting turtles have everyone feeling positive on the impact they are having for the Seychelles population of the critically endangered hawksbill turtle. There were also several excavations with a few hatchlings, which always seems to warm your heart on a long day, as well as some successful looking nests. The day ended with a surprise of three dolphins (assumed to be bottlenose) in the water which I feel could not have ended our day any better. As we will have to sadly say goodbye to two volunteers the three remaining wish them the best and are looking forward to meeting the newcomers as well as seeing what new surprises this expedition has in store for us.