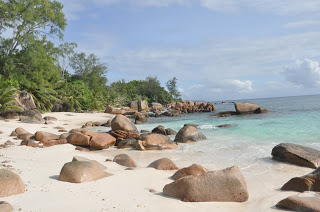 As our second week has flown by, we no longer feel it necessary to wear shoes. It's been a hectic week, with Zach the scholar leaving us, 'extreme' tweets, and a new tortoise!
Friday was Zach's last night on the island. The day started with a beautiful walk to Badamier where we checked for turtle tracks, we didn't find anything but had a great time swimming in the crystal clear sea and relaxing on the beach.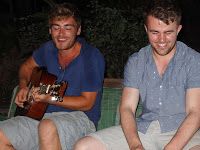 On our return we challenged the 'undefeated' staff to a volley ball match. Although the first game was an embarrassment to the volunteers, due to the introduction of Pat the 6"6 giant, the tables turned in the second game. At one point it was 9-2 to the volunteers, and despite a brave fight from the staff, we beat them! We followed up a great start to the night with a BBQ cooked by Nate, which we washed down with a few Seybrew's, the local beer in the Seychelles. Zach and I then started to play some music. Zach played the guitar and sang, whilst I improvised with saucepans and bowls to make a drum kit.
After a great send off for Zach, all the volunteers jumped on the boat named Dexter, to take a trip to Paradise (The hotel with free Wi-Fi!). We all had a fry up which went down a treat, then lounged around the pool all day catching up with friends, family and of course watched the final Lions test!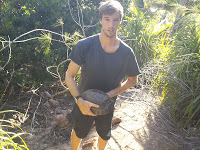 On Monday morning Pat took a group out for a tweet when we stumbled across an untagged 36cm long tortoise far away from any other tortoises. This was a great find as a Pat had never seen a tortoise that high up on Curieuse.
Despite the weather not being too kind to us this week (made worse with the news of a heat wave back home in England!), we didn't let it stop us. Extreme tweets were invented by Noel when she took a group out to look for sea birds. With the rain absolutely pouring down as they tried to get to each bird watching point, they were slipping and sliding everywhere!
We've had some really great times snorkelling around the Island too, with so many stunning fish and intriguing coral, but only a few of the team have seen a turtle, making us all even more eager to get in the sea and find one!