09/07/13 Diving into life at Cap Ternay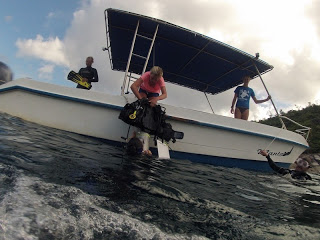 An integral part of the life-blood of our planet is under serious threat: coral reefs and the marine species who depend on them to survive.
If you are interested in helping a dedicated team of researchers save our precious marine resources, I have found the project where you will play a vital and active role.
The GVI Marine program at Cap Ternay, Seychelles is the place to be.
You will be trained and guided through an extensive educational program on the Western Indian Ocean marine environment and you WILL have an active role in taking coral and/or fish surveys to help better understand how we, as do fantastic, rewarding work in one of the most idyllic settings on planet earth.
After only a few days here, I already feel as if I have contributed in a positive way in helping our environment, and it's a tremendously rewarding experience!!!
Time flies when you're having fun…well, the first week at Cap Ternay has certainly flown by.
Our first week was filled with a lot of learning.
For me, butterflyfish, surgeon fish, tangs, angel fish, puffers, anenome fish soldier fish, squirrel fish, and bristletooths.
Training takes place in the classroom as well as the ocean, so we have been diving every day.
The staff are extremely knowledgeable and have really helped me to learn my Western Indian Ocean fish species.
I am truly looking forward to diving next week to do some surveying of the fish species so I can make the most of my time here helping the staff/researchers compile their data.
Remember…only take pictures and leave only bubbles!
I miss all of you on Curieuse too, especially Digby (the dog).
John A. Borg