08/11/13 - A Curieuse Halloween
By Zoe, GVI Seychelles Volunteer
5 years ago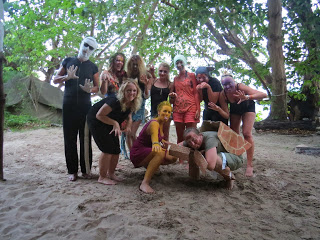 Hola everyone!
These past few days on the island have been eventful to say the least. With turtles now causing regular bursts on excitement on our wurtles and snurtles (walks and snorkels looking for turtles to all those not island oriented) its somewhat surprising that we have any energy left at the end of the days. However, in true Seychelles style, we spent most of our Friday revamping the base in preparation for our Halloween party. Many ghosts were hung around the walls of the common area, and a giant cardboard spider was hung in the kitchen window. This caused much anxiety for our beloved guard dog Digby, who barked and whined at the mere sight of it.
As the afternoon wore on the costumes started to develop, in many varied levels of scariness. The characters that emerged varied from cats and rats, to the more obscure carrots and sea urchins. And let's not forget our lovely staff team that came as the crew from Scooby Doo accompanied by a very familiar Scooby of our own. Then, as always, the eating commenced, with a plethora of delicious dishes to feast on and a spectacular graveyard cake-complete with its own topographical story to accompany it.
After everyone had sufficiently filled their bellies, it was time for the games to commence! Apples were bobbed for, and musical statues was played to the haunting tune of ''Thriller''. Many a wobble developed as attempts to stifle laughter failed and I'm quite sure the shouts from our exuberant chocolate game were heard all the way over in Praslin. I will never forget the hilarity of when people screamed out for the mask, snorkel and fins and tried to put them on so they could stuff their mouths with chocolate before the next person rolled a six. It was the last game we played that night as all other ideas of games just ended up in a confusion of laughter. The night however will be one of my fondest memories of my time here, although I think I say that about almost everything that I experience here.
Regardless it was a lovely last chance to party with our staff members, who, as of Monday, have been reduced to three and a half. On Sunday we lost our bird man Pat, who as migrated across the bay to survey Black Parrots in Praslin. Then on Monday we bid adieu to our Scottish scholar Pascal, who decided he'd had enough of the 7.05 morning starts and returned to his homeland to enjoy all the comforts of non-island life. Despite these sad events, our spirits were lifted with the arrival of the new base-manager-in-training, Luke. He now makes up the half until he becomes fully fledged in all his base manager glory.
So it has been an eventful start to the week, with several feet being attacked in the mangroves this afternoon, it only seems like this week is going to get better!
Zoe